Alienware is targeting gamers who want the best of both worlds: a portable gaming machine that is powerful enough for when they're out and about (or just chilling in the recliner), and a powerful machine for when they need all the performance they can get. In comes the Alienware 13 laptop and the Graphics Amplifier, which complements the laptop by boosting its performance to desktop levels via graphics card innards. The company has also dropped some details about its Area-51 flagship gaming rig.
The Alienware Graphics Amplifier is a $299 USD box that complements the Alienware 13 laptop specifically with graphics cards from either NVIDIA or AMD for a boost of power. The Amplifier offers up to 375 Watts of power, has four USB 3.0 ports, and supports dual-height full length graphics cards. It'll be available to order October 28.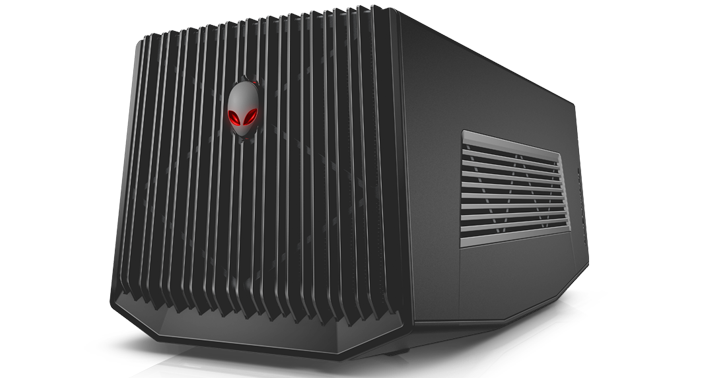 The Alienware 13 itself is slim at 1-inch in thickness with a weight of 4.5lbs, making it trimmer than many of its gaming machine siblings. We previously detailed the machine, which boasts an NVIDIA GeForce card of its own, and now we finally know the price: it starts at $999 USD, and will be available to order from Alienware's website on October 28.
As mentioned, Alienware also brought up its Area-51 flagship desktop (check out our hands-on), revealing its price tag, as well: it starts at $1,699 USD, bringing with it six or eight cores, liquid cooling, graphics card options from NVIDIA and AMD, and more. Likewise, the machine will be available to order starting on October 28
SOURCE: BusinessWire