Alienware has revealed its latest flagship gaming PC, the Area-51, using Intel's new Core i7 Extreme processors in a striking triangular form-factor. Inside, as we found out when we caught up with Alienware to try out the Area-51, there's space for three full-sized, double-width graphics cards too, plus lashings of DDR4 RAM. The Area-51 isn't just about cranking up the level of performance from the top-end of Alienware's range, though, it's also about introducing a whole new aesthetic, this time dubbed "EPIC".
Rivals might disagree, but as Alienware tells it the gaming PC industry as a whole has been "inspired" by the designs of its earlier desktops. It got to the point, the company told me, where in trying to figure out what the Area-51 should look like, every evolutionary concept from the outgoing range ended up reminiscent of the mild riffs on Alienware designs from other manufacturers.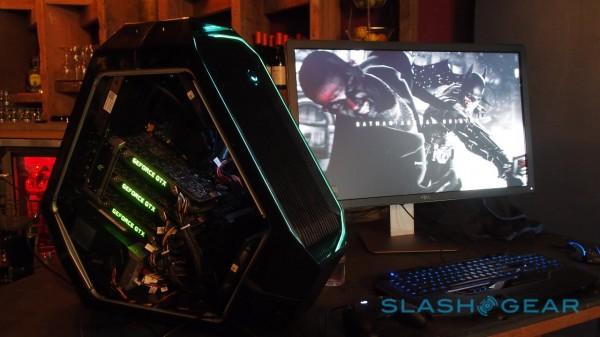 Whether you buy the copycat claims or not, the result is the same: Alienware opted to take a significantly different route, hence the triangular Area-51 you see here.
The shape – codenamed "Triad" – might seem contrived, but according to the designers it's actually quite a sensible approach. Angled front and back panels mean the optical drive and ports are easier to access when you're reaching down under your desk (the rear panel illuminates, too), while all three of the corner points are reinforced so you can use them as carry handles.
Meanwhile, by angling the rear panel, even if you've pushed the Area-51 back against the wall, there's still plenty of space for heat to dissipate.
Unclip the side panels – which are reassuringly sturdy, and don't flex like some PC chassis panels we've seen – and there's a sizable hatch to access the guts of the PC. The PSU is at the bottom, with the PCI cards arrayed at an angle above, while interior lighting makes for an easier place to work.
All the edges are folded so there's nothing sharp to catch a finger on, either. On the other side, the drive bays are fixed flat to the outer wall, so you can more readily drop in a new HDD should the mood take you. Up to five drives can be installed.
Of course, this wouldn't be an Alienware rig without some extreme specifications, and the Area-51 doesn't stint there.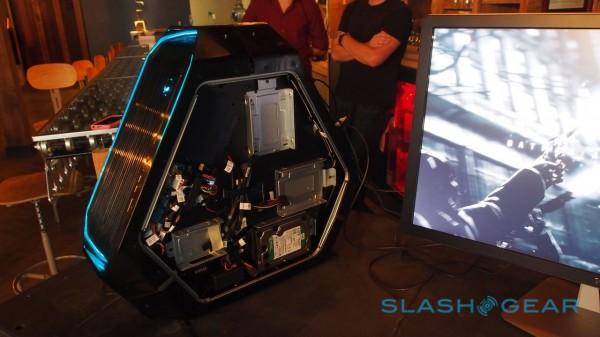 Up to three 300W double-wide, full-length video cards can be installed – the unit we tried had three hefty NVIDIA GeForce inside, but AMD Radeon cards will be on the options list too – and up to a 1.5KW power supply can be specified. There's liquid cooling for the 8/6-core Intel Extreme processors, which come unlocked, and up to 32GB of DDR4 memory support on the Intel X99 motherboard.
Intel is claiming up to a 45-percent increase in performance with the new chips over old quadcore processors. The 8-core Core i7-5960X runs at 3.0 GHz (3.3GHz Turbo), and has 20MB of L3 cache, while the 6-core Core i7-5930K runs at 3.5 GHz (3.9 GHz Turbo), and comes with 15MB of L3 cache.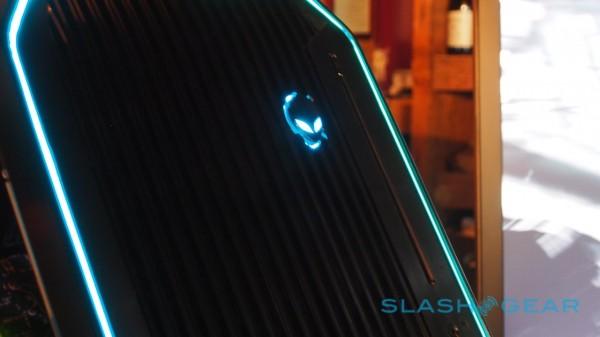 Finally, the 6-core Core i7-5820K runs at 3.3 GHz (3.6GHz Turbo) and has 15MB of L3 cache. No matter the processor, Area-51 connectivity includes Killer gigabit ethernet as standard and 802.11ac 2×2 WiFi.
Nine programmable Alien FX lighting zones are supported, and can be set to change automatically according to what software or game is loaded, or even to adjust depending on what's going in each game.
The Alienware Area-51 begins shipping in October in the US, and globally in time for the holidays.