Alfa Romeo 4C Spider ditches roof, cranks up exhaust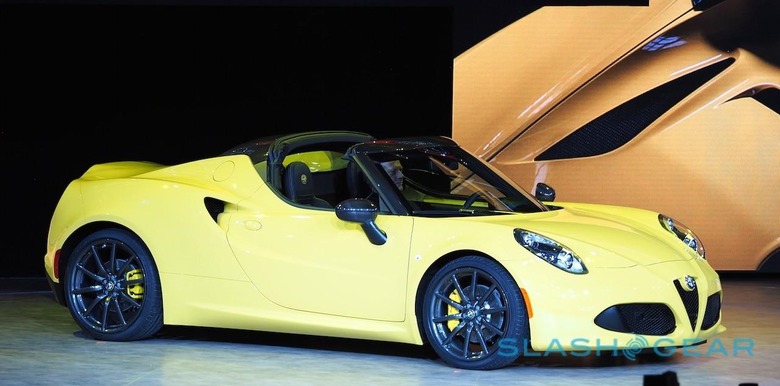 Chopping the top off an existing car is one of the easiest ways to expand your range, but when you're starting with the Alfa Romeo 4C, a Spider version is still plenty interesting. The Italian marque brought a bright, custardy-yellow 4C Spider along to Detroit today, giving the convertible its first showing (and, perhaps ironically, with snow and sleet figuring significantly outside in Wintery Michigan) as well as its carbon fiber trimmings, ahead of its arrival at US dealerships this coming summer.
Based, clearly, on the 4C Coupe, the 2015 4C Spider has either a fabric soft top or a carbon fiber hard top, either of which can be removed to expose the two seats to the elements. It's likely to be particularly popular among 4C fans who can't get enough of the car's 1.8-liter turbocharged, direct-injected engine, which is known for its screaming exhaust note.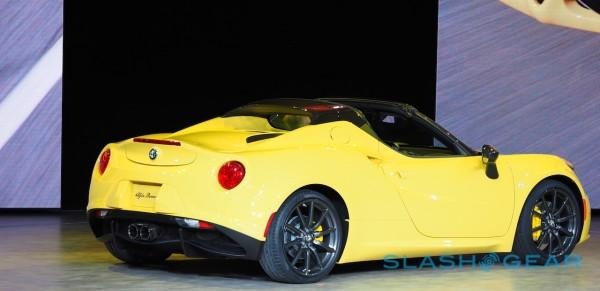 Down the line, there'll be an all-new Akrapovic dual-mode center-mounted performance exhaust system as an option, but even the regular-fit system should provide a satisfying soundtrack.
Taking off the top can often leave a car wallowy, but Alfa Romeo has highlighted the strength of its carbon fiber monocoque with a matching windshield frame. There's more of the stuff sharing cabin space with the leather trim, and Alfa's premium-leather interior – optional on the 4C Coupe – is standard fit on the Spider.
A 7-inch driver display is in the binnacle, and there's now a new Alpine premium radio with support for Bluetooth, USB, iPod, and CD/MP3 sources, along with HD and SiriusXM radio.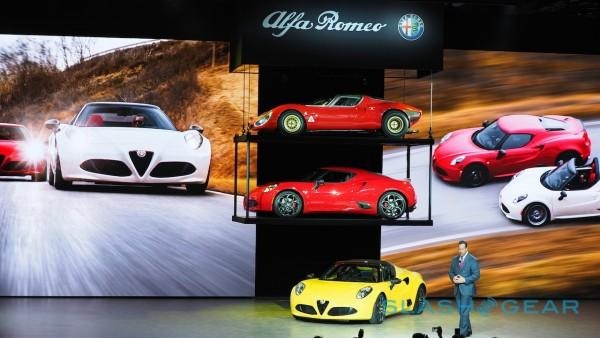 The paddle-shift twin-clutch transmission has been tweaked since the Coupe, with more aggressive downshifts in Dynamic and Race modes. An optional Track Package boosts the shocks, sway bars, and wheels, plus throws in a flat-bottom wheel, carbon fiber mirrors, and different seat fabrics.
All in all, as headless conversions go it's shaping up to be a solid alternative to the purist's 4C. The 4C Spider will show up at US and Canadian dealerships this summer.