Alfa Romeo has pulled the wraps off the final design of the 4C compact supercar, and in a world of lumpen hybrids and feckless luxo-barges, the rear-wheel drive coupé is a blast of gorgeousness we can't wait to see on US roads this year. Little changed from the original 4C concept first shown in 2011, the Alfa Romeo 4C wraps a curvaceous full-carbon chassis and aluminum body around a new, 4-cylinder 1750 turbocharged all-aluminum engine, which the Italian car company promises will exhibit zero turbo lag.
The power is pumped through an Alfa TCT automatic twin dry clutch transmission, with optional paddle shifting. The driver also gets a new "Alfa DNA" selector control, which steps through the four driving settings: Dynamic, Natural, and All Weather, which have already been seen on the existing 8C Competizione, as well as a new Race setting for those doing some serious track work.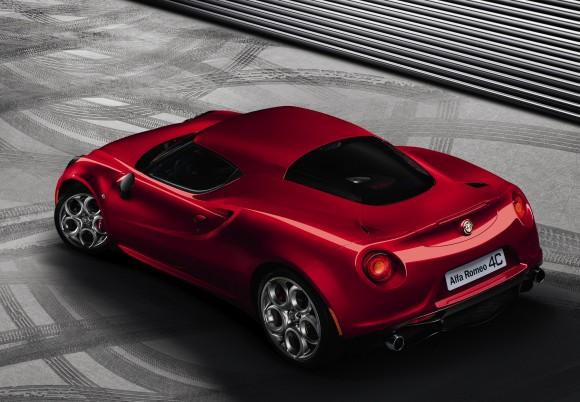 Under the hood, there's dual continuous variable valve timing and Alfa's unpleasantly named (but very clever) "scavenging control system" to chop away at turbo lag. The focus on driving continues inside, with a pair of bucket seats squeezed into the compact 2.4m wheelbase; the car as a whole is under four meters long, two meters wide, and 1.18 meters high.
Alfa Romeo's aerodynamics team have actually managed to achieve a negative downforce coefficient, which – just as in proper race cars – means the 4C should be more stable the faster it's going. Exactly how fast that will be is unclear, at this stage, with the marque yet to reveal performance numbers beyond a tantalising "less than 4kg/HP" weight to power ratio.
In short, its an admirable car to mark Alfa's return to the US market, and hopefully the company will treat us with a competitive price, too, when it shows the 4C off at the Geneva Motor Show.