Alfa prices up its stunning 4C Spider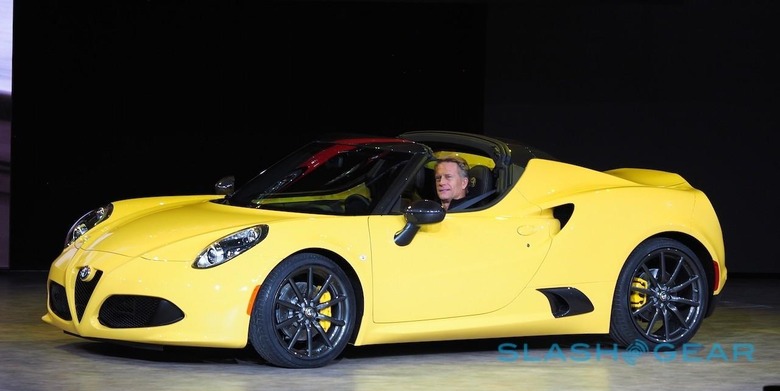 It's the price-tag fans of droptop Italian exotica have been waiting for. Alfa Romeo has finally slapped a sticker price on the windshield of the 4C Spider, the convertible version of the aggressively-styled two seater shown off back in January at the Detroit Auto Show. Whimsical European-style motoring doesn't come cheap, though, with the 4C Spider carrying a hefty $10,000 premium over its hardtop sibling.
When it lands in US and Canadian dealerships this summer, Alfa Romeo says, the 4C Spider will kick off at $63,900. There'll be a $1,595 destination fee on top of that, too.
In contrast, the 4C Coupe starts at $53,900. Either way, for your money you get a 1.75-liter all-aluminum, direct-injection, turbocharged engine with the Alfa TCT twin-clutch transmission.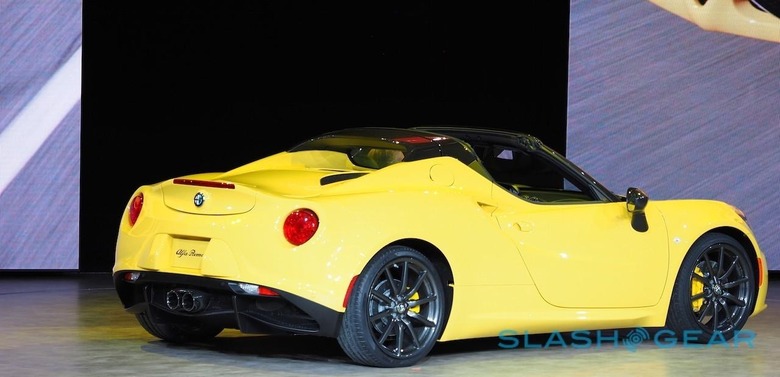 Keeping things stiff – and making sure you know it's there – is a carbon fiber windshield frame. That can optionally be paired with a carbon fiber "halo" highlight, drawing the eye to the racing-standard material even more.
A soft-top roof, which stows in the trunk, is standard, while Alfa Romeo will offer a hard-top (made, you guessed it, from carbon fiber) as an option. Also on the options list will be a center-mounted exhaust with carbon fiber surround.
Inside, the 4C's relatively spartan cabin can optionally be fitted with black leather-trimmed bucket seats that have yellow accent stitching.
Really, though, the 4C Spider is all about bringing some of the howling exhaust note and engine sound of the 4C into the cabin. As we found when we drove the "regular" 4C, it may not be perfect but it certainly has its charms, and the soundtrack is definitely one of them.