Alexa Announcements make Echo a home PA system [Updated]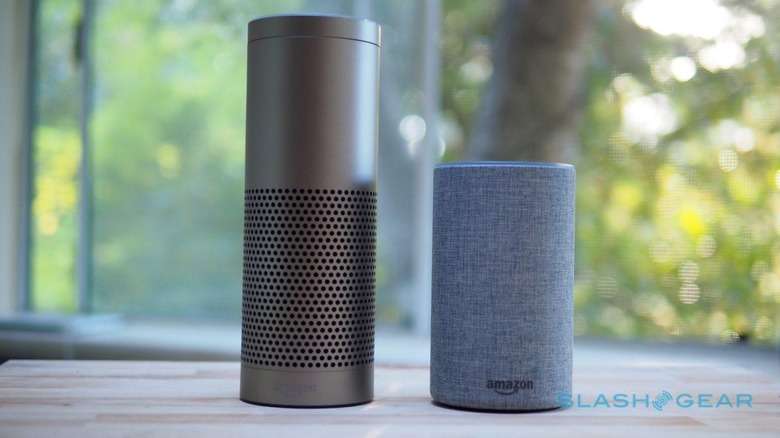 Amazon is turning Alexa into a public address system for the home, with Echo speakers now able to make one-way announcements to summon the family down for dinner. Dubbed Alexa Announcements, the new feature is like a one-way intercom, Amazon suggests.
Say "Alexa, announce that it's time to get up," for instance, and "It's time to get up" will be broadcast to all the other Echo devices in the household. Rather than being repeated in Alexa's own voice, it'll be the user's own voice that is heart. Alternatively, the instructions "Alexa, tell everyone..." and "Alexa, broadcast..." can be used to do the same thing.
Amazon isn't the first to the functionality, mind. Google added a broadcast feature to its Google Home smart speaker back in November last year, in fact. Like Alexa Announcements, it allows owners of multiple Google Assistant powered speakers to give a the command "Ok Google, broadcast it's dinner time," and have that repeated across every unit.
Google, meanwhile, went even further. It has preset sounds which can be triggered by Google Home broadcasts, for particular incidents. For example, there are specific sound effects for when it's time to wake up, to leave the house, or to go to bed.
Update: Turns out, Amazon has sound effects too, ranging from roosters through to dinner bells. They'll sound depending on what command you give Alexa, and you can find the full list below:
Wake Up – Sound Effect: Rooster Crow

· Say: "It's time to wake up", "rise and shine"

Quiet Time – Sound Effect: Shhhh

· Say: "Quiet Down", "Everyone be quiet"

Late/Let's Go – Sound Effect: Feet running

· Say: "We're late", "Let's go"

Bedtime – Sound Effect: Twinkle Twinkle

· Say: "It's time for bed", "Time to sleep"

Goodnight – Sound Effect: Yawn

· Say: "Goodnight everyone", "Sleep tight"

Meal – Sound Effect: Dinner bell

· Say: "Breakfast/Lunch/Dinner's ready", "It's time to eat"

Congratulations – Sound Effect: Cheer

· Say: "Congratulations," "Way to go"

Media time – Sound Effect: Show tune

· Say: "Let's watch TV", "The movie is about to start"

Love you – Sound Effect: Playful kiss

· Say: "love you"
For this to be useful, of course, you'll need more than one Echo (or Google Home, if you're in the Google ecosystem) and have them all assigned to the same household profile. Just as with Amazon's other multi-Echo features, like Drop In, multi-room music, and calling & messaging, the goal is to encourage greater adoption of the smart speakers in a broader number of rooms.
Still, it could be that existing Amazon devices you already have are getting new Alexa features. Earlier this week, for instance, Amazon revealed that the Fire 7 and Fire HD 8 (2017) tablets would be upgraded with a hands-free Alexa mode. Whereas until now you've needed to long-press the home button in order to trigger the virtual assistant, with the update, as long as you're either using the tablets or have them plugged into a power supply, Alexa will listen out for her keyword.
Alexa Announcements will be rolling out to Echo devices in the US and Canada from today, Amazon says.