Alcatel Xess all-in-one launch date set for April 22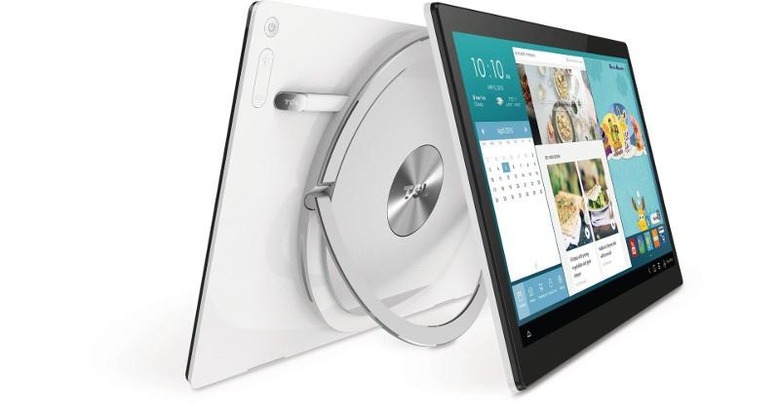 At CES early this year, nay even as far back as IFA 2015 last September, Alcatel revealed a rather bold new device that, frankly, still doesn't have an established, let alone widely embraced, category. The Alcatel Xess is practically an all-in-one computer amalgamated with a gigantic Android tablet designed for the kitchen and family enjoyment on the side. Calling it both a kitchen hub and a family entertainment device, Alcatel will be launching the Xess in North America starting 22nd April for the price of $499.
Alcatel is definitely not the first to put out this kind of odd contraption. It was beaten to the punch by Samsung's Galaxy View which launched late last year. Unsurprisingly, both devices serve the same purpose. While veritably a huge tablet, Alcatel, like Samsung, is putting a heavy kitchen bent on the Xess, emphasizing the pre-loaded recipe apps on the device as well as the ability to search for more, considering it's practically a huge Android tablet.
But Alcatel is also selling the Xess as an entertainment screen for the whole family. And by whole family, they really mean kids. Partnering with Viacom, the Xess comes preloaded with apps and content from the popular Nickelodeon kids' network. Kids can enjoy the pre-school show PAW Patrol and the Noggin app. And, being a huge Android tablet, parents can also download other child-friendly content. Alcatel, however, doesn't make mention of any sort of parental control.
The Xess does come with an in-box IP camera so that parents can keep an eye on other rooms of the house, probably where the kids are, while they're in the kitchen or in some other room. The Alcatel Xess app launcher includes a shortcut to an IP camera portal for easy access to that view.
As far as hardware specs are concerned, the Alcatel Xess runs on a 1.5 GHz octa-core Mediatek CPU with 3 GB of RAM and 32 GB of expandable storage. The large 17.3-inch screen only sports a Full HD resolution while audio is delivered by dual 3-watt JBL speakers. It comes with its own 9,600 mAh battery, charged via a magnetic quick release charger, so you can take it anywhere inside the house. Starting April 22, the Xess will be available for early access with the online exclusive $499 price tag.