Alcatel Idol 4S box to serve as VR goggles, MWC lineup revealed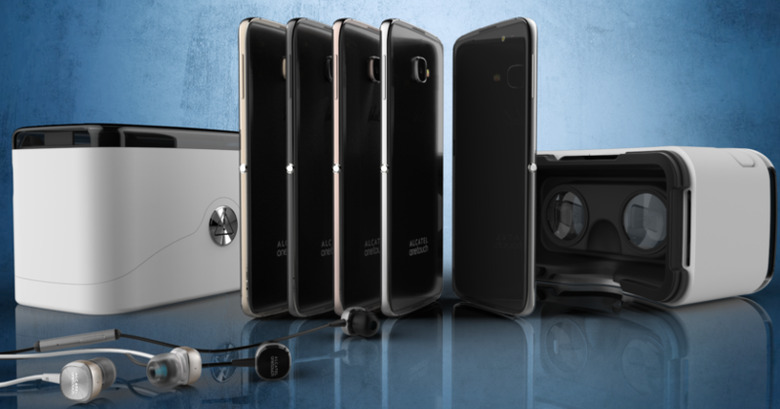 MWC 2016 is fast approaching, so naturally OEMs are trying to get in the last pieces of their wares. Or trying hard not to let the public see yet. Of course, with all the leaks and tips going on, that's nigh impossible to accomplish. Even Alcatel isn't exempt from that malady. In fact, it may have just been hit hard the most, with its entire lineup having practically been revealed. That said, it does bear one new interesting tidbit, that Alcatel's new OneTouch Idol 4S will come in a plastic box that will double as a VR headset.
This type of marketing stunt has been done before, so we're not exactly going crazy over it. It is, however, interesting how even smartphone OEMs are jumping on the virtual reality bandwagon. In 2015, LG started offering, for a limited time, a free Google Cardboard headset with the LG G3. When OnePlus unveiled its 2nd flagship, the OnePlus 2, it did so entirely in VR. Now Alcatel will be doing something similar to LG, but this time the VR goggles itself is actually the box that the Idol 4S will come in.
As for the smartphone itself, the Idol 4S and its smaller Idol 4 sibling will be the stars of the OEM's MWC show. The higher end of the two, the Idol 4S is a strange mix of high-end and mid-range specs. The screen is noted to be a 5.5-inch QHD AMOLED display. On the other hand, it is powered by a rare Snapdragon 652, an octa-core processor from Qualcomm's higher mid-range line. There's 3 GB of storage and a possibly capable 16 megapixel rear camera with a f/2.0 aperture. The front-facing 8 megapixel camera will have an LED flash of its own.
The Idol 4 is a slight step down from the 4S, with a smaller 5.2-inch IPS LCD screen, resolution unknown. The Snapdragon 617 it runs on has eight 1.5 GHz cores, in contrast to the Snapdragon 652's four 1.8 GHz cores and four 1.4 Ghz cores. There's only 2 GB of RAM this time around and the rear camera has been knocked down to a 13 megapixel shooter.
Alcatel also has something for its Pop line as well. The Pop 4 is set to have a 5-inch 720p screen, 1 GB of RAM, and 8 GB of internal storage, with 8 and 5 megapixel cameras, back and front, respectively. The Pop 4S, on the other hand, will get a 5.5-inch Full HD display, 2 GB of RAM, 16 GB of storage, and a 13 megapixel rear camera.
The OneTouch Idol 4S is expected to retail for $400, the Idol 4 for $250, and the Pop 4 and 4S for less than $200, all hitting stores in May.
VIA: VentureBeat