Airway AirPlay speakers are almost genius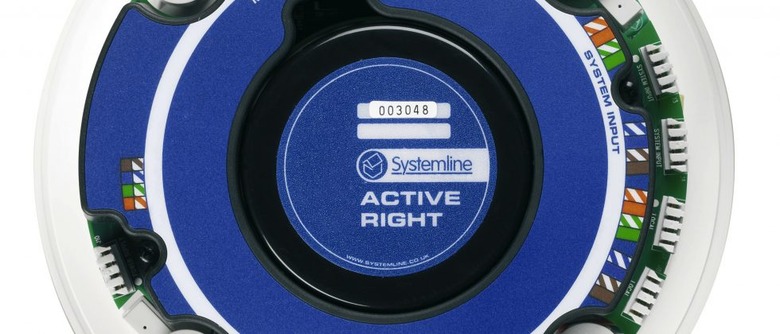 Apple's
 system promises easier music streaming from your iPhone or iPad, and for a moment it seemed 
 in-ceiling AirPlay-enabled speakers might be the best way of using it. Simple enough for DIY installation, the stereo speakers offer minimal visual clutter with Sonos-style remote control from your iOS gadget; unfortunately, it seems Systemline didn't go the whole hog and make the Airway speakers entirely self-contained.
The most elegant – and simple to install – way, of course, would be to integrate an AirPlay receiver chip into one of the speakers, thus requiring only a power supply and a connection between the left and right units. That's not how Systemline's setup operates, however.

Instead, the speakers are routed via a CAT5 connection down to a wall-plate, into which both a power supply and an Apple Airport Express are plugged. It's the Airport Express that handles the AirPlay magic, simply feeding into the wall-plate via an optical digital cable. Systemline does at least preconfigure the wireless on the Express to show up as "Systemline" on your iPhone.
On the plus side there's flexibility: if you don't want to use AirPlay, you can unplug the Express and jack in another source. Still, for £599 including tax ($948) – which gets you everything bar the iOS device – it's an expensive way of hiding your AirPlay-enabled speakers.