AirVR Brings VR To Your iPad Mini, iPhone 6 Plus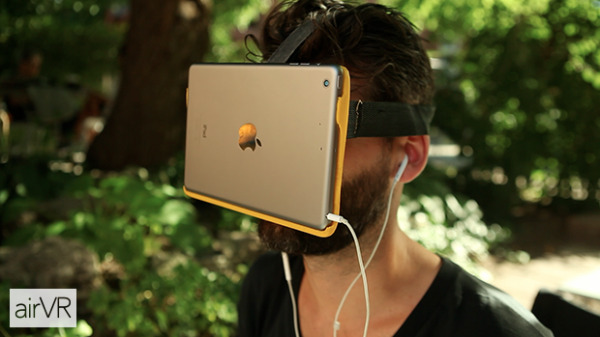 See that picture up there? It's really a thing. A new Kickstarter campaign aims to bring VR to your face, but with the device you may already have on your desk. Rather than ask that you buy a special VR headset for hundreds of dollars, AirVR is both affordable and equally nerdy looking as the rest.
Best of all, it uses an iPad mini or iPhone 6 Plus (which, I know, you don't have on your desk yet). Like Google's odd-but-really-awesome cardboard giveaway at Google I/O earlier this year, AirVR takes the already awesome screen you have on your handheld and drops it in front of your face.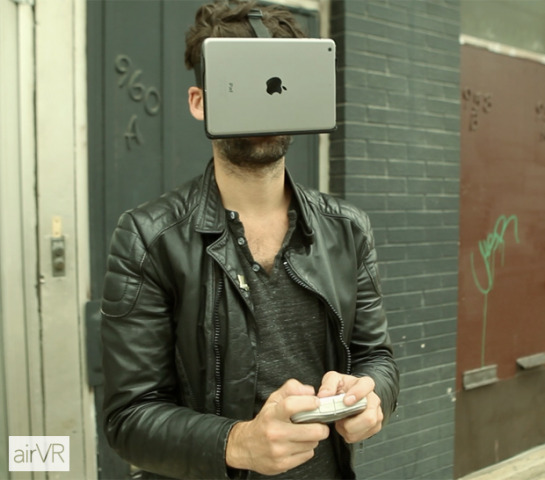 When the Oculus Rift went through the teardown process, the attention-grabbing headlines were that it basically had a smartphone screen inside. Google's cardboard giveaway seemed to be the company ribbing Mark Zuckerburg for snapping up Oculus for $2 billion, effectively saying "you could have done it for a LOT less, Zuck."
Using all the sensors your tablet or phone already have, AirVR offers up a myriad of experiences for the VR enthusiast to check out. Photos, movies, and even panoramic environments can be realized with AirVR, and their campaign notes it works with native iOS apps.
The SDK is open source for Developers, too, and works with the popular Unity3D. That makes it easier for Developers to update existing Unity games and apps to AirVR.
Maybe best of all, the kit is a mere $49 CAD. With current exchange rates, that's about $45 US. There are two kits available, with the AirVR made for the iPad mini with Retina display, and the AirVR+ for the iPhone 6 Plus. For the coming surge of VR everything, this might be the best — and cheapest – way to get involved without cutting up a box.
Source: Kickstarter
Via: CNET