Airbnb Adventures promises experiences fit for your Instagram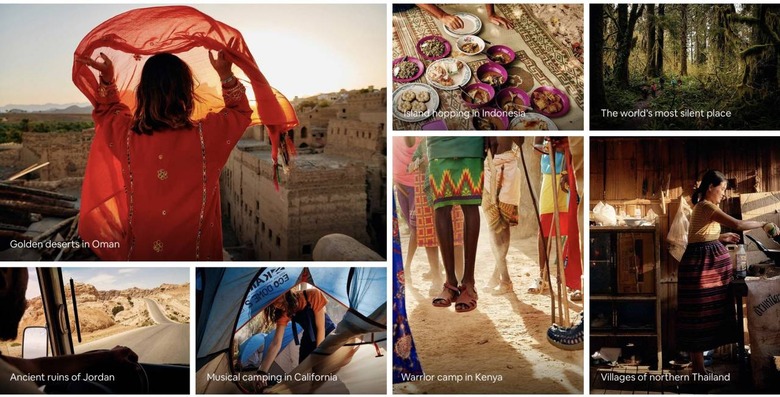 As if renting rooms, apartments, and more unusual vacation accommodation isn't enough, now Airbnb is getting into the adventures business. Airbnb Adventures is the company's latest expansion, shifting beyond being an alternative to regular hotels and taking on the sort of hosted journeys that you'd typically go to a travel agent or specialist for.
It builds on the existing Airbnb Experiences, with a more structured type of trip that's hosted by local experts. For example, Airbnb Adventures is offering the ability to go to Kenya and track lions on foot, guided by Samburu warriors and expert conservationists.
To mark the launch, there's a special adventure that borrows the plot of "Around the World in 80 Days," an 80 day trip that promises to cover six continents and eighteen countries in all. For $5,000 per person, you get accommodation and transportation across a variety of methods – including flights, trains, boats, helicopters, and more – together with food, snacks, and professional guides. It'll be a limited-availability trip, with bookings opening from June 20.
It's the first time Airbnb has included lodgings, meals, and activities in its experiences, but it's also a big ethos step for the company. Traditionally, Airbnb has been the site you look to for an alternative to either bland, homogenized chains or expensive boutique hotels. By tapping into individual owners looking to rent out a spare room, apartment, or something more interesting, the company has carved out a niche as a broker of sorts.
Airbnb Adventures, though, goes further than that. It paves the way to local experts gaining access to a hugely expanded audience of people, and experiences that most people typically wouldn't know where to start planning. $5,000 for the around-the-world jaunt is at the top end of the scale, for example; other options start from $79 for an overnight trip. The median price is apparently $588 for three days.
Over 200 adventures are being offered at launch, and Airbnb says that they're either exclusive to the site or "provided by small, local operators that are not typically found on any other major booking platform." Each has a maximum capacity of up to twelve guests. Adventure leaders need to "meet certain quality and safety standards," Airbnb adds, and the whole thing was advised on by the Adventure Travel Trade Association (ATTA).
That same organization suggests this could be a lucrative expansion for Airbnb. In 2017, the ATTA says, the international adventure travel market was worth $683 billion, and it's rising fast. Airbnb has also partnered with GoPro on the HERO7 Black Adventure Kit, with a $200 discount for anybody booking an Adventure before the end of the year.