Agressive pricing in China means 5G phones must start cheap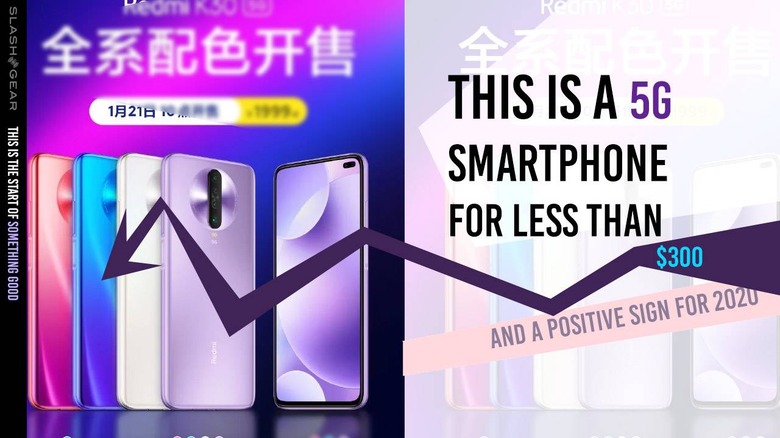 A set of phones revealed today in China provide guidance for next-gen 5G smartphones that'll be released around the world in 2020. These are the Xiaomi-made Redmi K30 5G units, in several colors, all with the ability to connect to the fastest 5G in China, all starting at approximately $290 USD (rough conversion). That's less than $300 for a smartphone that's on the cutting-edge of tomorrow's connectivity, here today.
This smartphone's base configuration has a 6.67-inch IPS LCD display sporting 1080×2400 pixels. That means 395 PPI (pixels per inch), with Gorilla Glass 5 on top for reinforced glass scratch protection. This display has an image refresh rate of 120Hz – that's as good as it gets here in 2020, of that you can be sure.
The only thing to look out for here is the fact that this is a 120Hz display paired with a processor that might not make the best use of the abilities at hand. You'll have a Qualcomm Snapdragon 765G chipset with Adreno 620 GPU, and at least 6GB RAM. Compared to top-end 5G smartphones like the Samsung Galaxy S20 Ultra 5G and it would seem like this Redmi phone isn't providing enough engine power to roll with the 120Hz is professes to sport.
The color options on these machines, on the other hand, are incredible. The colors are, roughly translated, Ziyu Wonderland, Time Monologue, Deep Sea Shimmer and Huaying Jinghong. You can safely assume that extravagant color names and shine like this will continue well into 2020.
At the lowest end of this collection of new Redmi K30 phones is the 6GB+64GB model (that's 6GB RAM and 64GB internal storage) for 1,999 Yuan. That's approximately $290, and it only includes the blue variant. The next step up is 6GB/128GB, then 8GB/128GB. At less than $300 right out the gate, this phone's launch should send a clear message to the rest of the smartphone market: Make em inexpensive, or be beaten to the punch!