After Super Guppy dropoff, Orion reaches Plum Brook Station pre-Artemis I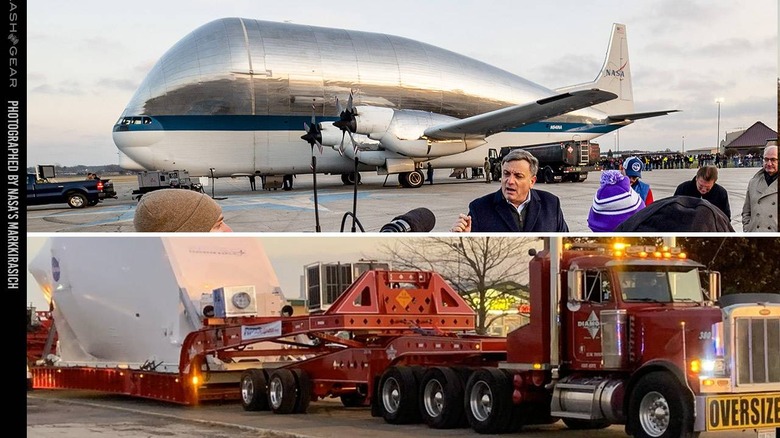 NASA's Super Guppy aircraft landed this week in Ohio to drop off NASA's newest Moon capsule. This Orion capsule is part of the Artemis I mission with an aim for the surface of our close lunar relative. This Orion spacecraft is currently arriving at NASA's Plum Brook Station where it'll be going through a series of tests before it reaches its next stage of preparedness for its flight to our Earth's Moon.
"During this phase, the spacecraft will be subjected to extreme temperatures, ranging from minus 250 to 300 degrees Fahrenheit [minus 160 to 150 degrees Celsius], to replicate flying in and out of sunlight and shadow in space," said NASA representative Kelly Sands. "The second phase is an electromagnetic interference and compatibility test, lasting about 14 days. This testing will ensure the spacecraft's electronics work properly when operated at the same time."
#Artemis I @NASA_Orion spacecraft is now at @NASAglenn Plum Brook Station where it will undergo thermal-vacuum and electromagnetic testing. pic.twitter.com/fUpCWK93fo

— Mark Kirasich (@MarkKirasich) November 26, 2019
As you'll see above, NASA Flight Director and NASA Orion Program Manager Mark Kirasich posted a photo of the arrival of the Orion spacecraft at Plum Brook Station this afternoon. Once the aforementioned series of tests is complete, the Orion spacecraft will be flown back to Kennedy Space Center. At that time, it'll start it's integration with the Space Launch System rocket for launch of the Artemis I mission.
For more information on Artemis I, head to the timeline below and/or take a peek at our look at NASA's plans for historic-level coverage of Artemis I. We've followed this mission since its first public announcement by NASA, and we'll be watching and reporting all the way to takeoff – and beyond!
But wait – what's the deal with that massive fish-looking airplane? The Aero Spacelines B-377-SG/SGT Super Guppy isn't entirely unique, but it's certainly rare. Only four of this exact model were ever made by Aero Spacelines, and only one is owned by NASA.
The Super Guppy is an oversized-transport plane, made specifically for transporting giant pieces of spacecraft, airplanes, and so forth. This one's been in operation for decades – but it's always a very strange sight, seeing the Super Guppy take off or land.
Not your ordinary big fish story: NASA's Super Guppy delivers Orion spacecraft to Ohio for testing at Plum Brook Station in advance of Artemis I mission. pic.twitter.com/dPCGBfo5GI

— Orion Spacecraft (@NASA_Orion) November 25, 2019