Adobe's most interesting app in years just got official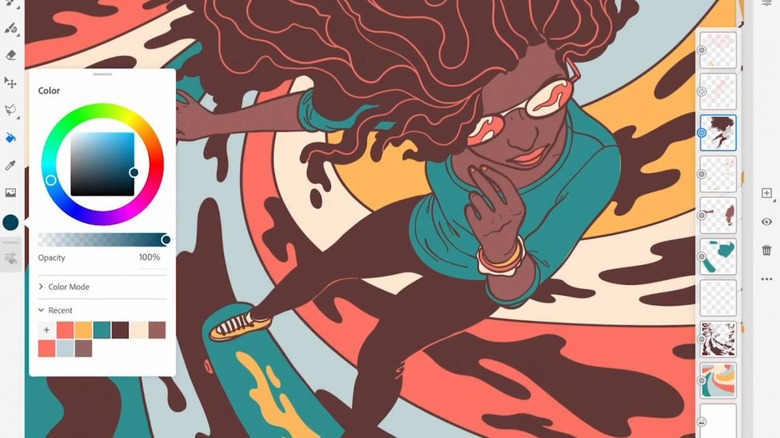 Adobe is gearing up to launch a new painting and drawing app for iPad, and today the company is revealing a few more details about what we can expect. First and foremost, the app received an actual name today: Adobe Fresco. On top of that, Adobe also detailed some of Fresco's features, such as the Live Brushes artists will be able to use while working on their drawings or paintings.
Despite the fact that we're just learning the name today, this isn't the first time Adobe has talked about the app. It was actually teased back in October as Project Gemini, at the same time Adobe announced that it was bringing Photoshop CC to iPad.
Fresco, of course, is a type of painting technique where the painter begins with a layer of plaster on a wall or a ceiling and then paints on top of it with pigment and water while the plaster is still wet. The artist has a limited window of time to finish the painting before the plaster dries, so every second counts, and Adobe explains that the urgent process of creating a Fresco was the inspiration behind this app. "When inspiration strikes, you have to act before the plaster dries," the company said today. "We're developing Adobe Fresco to empower spontaneous creativity."
In its blog post today, Adobe spends some time explaining Fresco's Live Brushes, which use Adobe's Sensei AI to mimic the behavior of watercolor and oils on your virtual canvas. For instance, when you paint with the watercolor Live Brush, the color will bloom around your brushstrokes, while painting with an oil Live Brush will leave behind ridges and visible brushstrokes to give paintings more dimension.
On top of the assortment of Live Brushes Fresco will ship with (which includes vector brushes as well), you'll also be able to import brushes from Photoshop and use those, or create your own in Adobe Capture. In the end, Adobe promises an app that will have the tools professionals need while at the same time being accessible for all users.
We don't know when Adobe Fresco will launch, but it'll be coming to iPad first. If you don't have one of Apple's tablets, you don't need to worry, as Adobe assures that it'll come to other stylus- and touch-based devices after launch. If you want to check out the app early, you can apply to test it over on Adobe's website, but other than that, keep it here for more on the eventual release of Adobe Fresco.