AdMob February 2010 Report Shows 48% Increase in Smartphone Traffic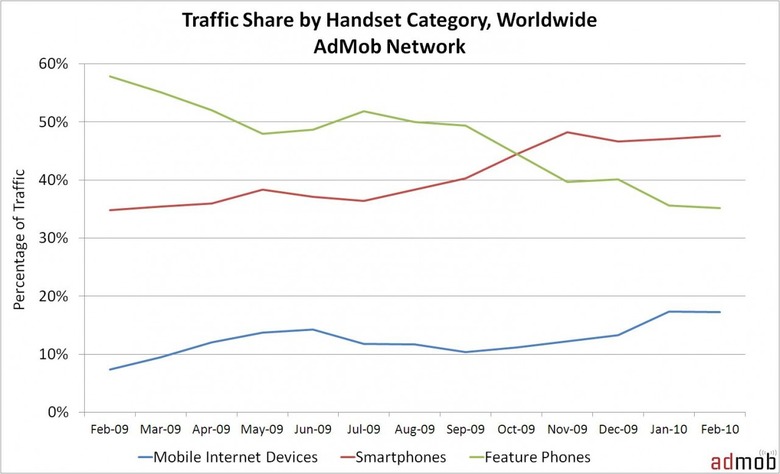 There's no doubt that, as we move forward, the world of mobile phones is drastically increasing in just about every single way imaginable. After all, when companies like HTC work together with wireless carriers like Sprint to bring out the EVO 4G, online traffic is going to increase. And, as AdMob shows with their report last month, we can see that smartphones are on a sharp incline, but so are Mobile Internet Devices (MIDs). Where do feature phones fit in all of this? That's what some would consider the bad news.
AdMob is basing February's results against last year's February's results, so that should put the results in a bit of perspective. We've seen a sharp incline in smartphone sales this year, especially with the release of devices like the Android-based Motorola DROID for Verizon Wireless, as well as Palm's own webOS devices. And, let's not forget the iPhone, which saw another revision last year as well.
The results take these basic results: smartphones accounted for 48% of AdMob's worldwide traffic as a whole, which resulted in an increase of 35% from last year. This is due to a heavy usage of application usage, both on the iPhone OS and Android platform. The share of traffic for feature phones fell from 58% to 35%, but the total share increased 31%, which basically means that while feature phones are still increasing market traffic, smartphones and MIDs are growing at a far faster rate. And, while it may have the smallest number, AdMob is reporting that MIDs held the strongest market increase, coming in at 17%. They also report that the majority of this traffic results from the iPod Touch, they're also seeing some traffic coming from devices like the Sony PSP and Nintendo DSi.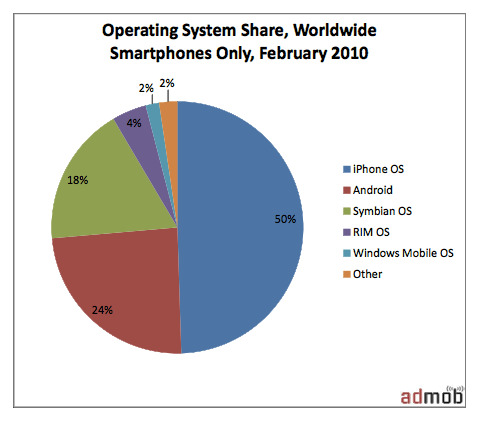 We're seeing new, bigger, sleeker, and more concentrated ways to get to our mobile world, and it's a market that's not going to slow down any time soon. Strictly speaking, devices like Apple's iPad aren't even released yet, and we can bet that when Apple's tablet device finally hits customer's hands, it's going to make that Mobile Internet Device category jump wildly. Yet, our mobile devices are getting faster, so perhaps the smartphone market will keep it at bay, especially with the types of devices being released.
[via AdMob]