Adidas Liquid Story ferrofluid installation [Video]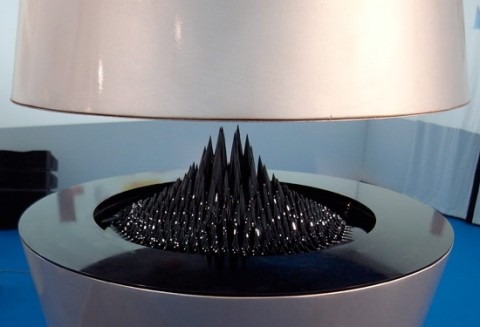 Adidas have commissioned an audio-video installation using dancing ferrofluid, which will go on show at Milan Design Week 2009.  The handiwork of Felice Limosani, Liquid Story incorporates two cones between which a magnetic field is created, causing a 10 liter pool of iron-enriched resin to map out music with hypnotic spears.Video demo after the cut
The specific music and 3D animation is specially created for Adidas by Limosani, known for his previous installations at galleries such as the Tate Modern in London and the Pompidou Centre in Paris.  The prototype of Liquid Story was first shown in Florence back in January, though at that time it lacked video or music.
"We thought the use of such liquid and the ever-changing shapes that he produces while interacting with the magnetic field would be the best metaphor to represent the target of our brand: express individuality, authenticity and originality. The liquid is versatile, it solidifies, evaporates, flows without losing its essence and its key features. similarly our world has seen products changing while our objective has always been and always will be the same: expressing originality and enabling people, whatever their personalities might be, to find a product, a vision, a story to express themselves" Alegra O'Hare, head of style, Adidas Italy
Ferrofluid is not just for entertainment, though.  Scientists in Quebec a looking to use the highly-reflective substance in telescopes, replacing mercury mirrors; the ferrofluid could be more precisely controlled and used in non-horizontal installations.