Addonics hot-swap 2.5-inch Double Drive caddy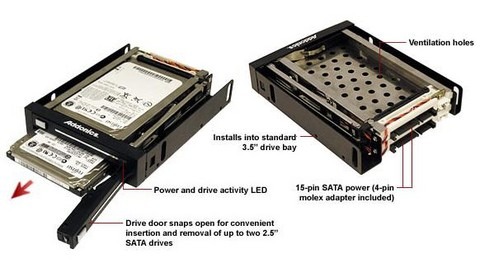 Whereas in the past 2.5-inch drives were the low-speed, low-capacity lesser siblings of the 3.5-inch desktop HDD, recent advances have meant that the latest compact units – such as Western Digital's VelociRaptor VR150 – can fight on pretty equal ground when it comes to performance.  In fact, the smaller platter size can make for faster read/write access, and 2.5-inchers tend to be more frugal with power, too.  So it makes sense, if you're looking to outfit a new server or backup machine, to consider 2.5-inch drives, and Addonics have just the hot-swappable caddy to let you do that.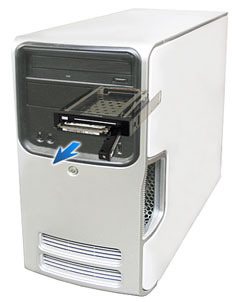 The Snap-In Double Drive allows two 2.5-inch SATA HDDs to be used in a single 3.5-inch drive bay.  When paired with a hot-swap compatible SATA controller, the discs themselves can be removed, exchanged and generally juggled just like normal removable media.  No tools or screws are needed to secure the drives, and the caddy is happy with 3Gbps or 1.5Gbps units.
Addonics are suggesting it would make a great RAID setup, or an alternative to tape-based backup.  Best of all is the price: at $39 it's not too different from a traditionally caddy system (where the drives are secured into removable sleds).  It's available now.