Acura NSX teaser shows supercar getting frisky in the wet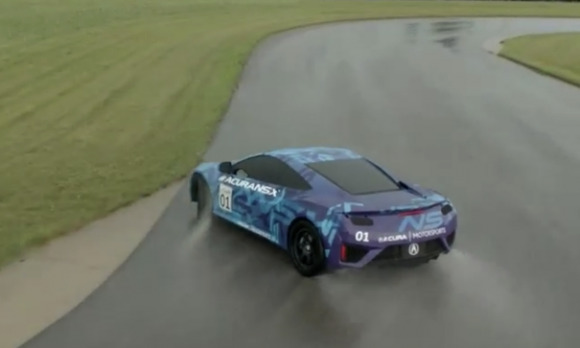 If ever there was a good reason for Instagram and Vine, Acura teasing the latest NSX prototype doing wicked things around the track ahead of its showroom debut might be the very finest. The car company has already shown us the 2015 NSX sitting pretty at NAIAS 2013 back in January, but a pair of brief videos – which you can see after the cut – give a more aurally-pleasing glimpse of the supercar.
The first video, shared on Vine, is six seconds of the mid-engined car running around a dry test track. It's covered in what looks like a vinyl wrap with Acura Motorsports branding, but is otherwise unbadged, and we're big fans of the blacked-out headlamps which give the car an aggressive, snaked-eyed look face on.
Arguably more exciting is the follow-up, a nine second Instagram video showing the Acura NSX having fun in the wet. That's a good excuse to get the tail out round some test track corners and throw up some spray.
What we can't quite get over is how great the NSX sounds: an angry V6 that, even though Honda has cooked up a new version of its electric support system for the car, doesn't sacrifice the soundtrack.
Wet performance should benefit considerably from the Sport Hybrid SH-AWD system paired with the 3.5L V6 engine. Acura will equip the 2015 NSX with a total of three electric motors, one 30 kW motor hooked up to the V6, and 20kW motor apiece for each rear wheel. They'll be switchable, either allowing for greater torque on the outside rear wheel while the inside wheel flips into regenerative mode to keep the battery topped up, or helping shift the car into all-wheel drive, with the third motor powering the front axel.
Alternatively, it can be used to top up the car's battery while simultaneously driving the rear wheels. That should all come in handy when the NSX takes to the Mid-Ohio Raceway come August 4, for the Honda 200 IndyCar race.
Mass production, meanwhile, won't begin until 2015, with Honda and Acura yet to confirm final pricing but describing the NSX as a "boutique" project.
VIA Autoblog