Active Media Aviator 312 SSDs use SuperSpeed USB 3.0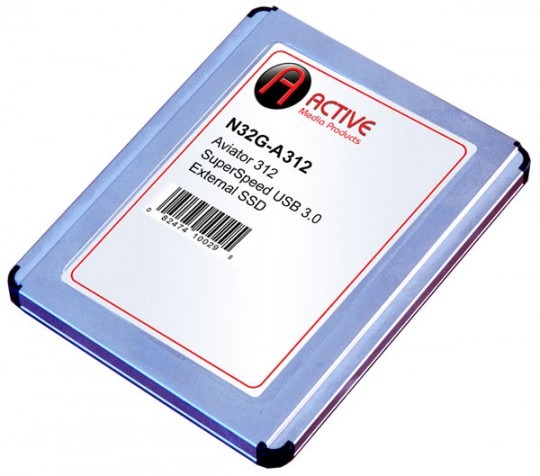 "SuperSpeed" USB 3.0 isn't expected to make a mark on shipping devices until next year, but that hasn't stopped Active Media from unveiling their latest range of external SSDs.  As you might imagine, the Active Media Aviator 312 line each supports USB 3.0 connectivity, as well as offering 16, 32 or 64GB of high-speed storage space.
Thanks to USB 3.0, the new SSDs can boast transfer speeds of up to 4.8Gbits/sec, though of course that's theoretical rather than what you'll likely see in practice.  Still, Active Media say it's good enough to offer 240Mb/s read speeds and 160Mb/s write speeds; that'll shuffle a 25GB high-definition movie from your PC to the drive in about two minutes.
The drives themselves are less than 3-inches long and 0.2-inches thick, are USB bus powered, and backward compatible with USB 1.1 and USB 2.0.  They'll begin shipping this quarter, at $89 for the 16GB, $119 for the 32GB and $209 for the 64GB.

Press Release:
Active Media Products Announces Aviator 312 Line of SuperSpeed USB 3.0 External SSDs

Ultra-Small 16GB, 32GB and 64GB SSDs Support up to 240MB/sec Read Speeds and up to 160MB/sec Write Speeds

Fremont, California – October 5, 2009 – Active Media Products, manufacturer of SSDs and innovative USB drives, today announced the Aviator 312 line of SuperSpeed USB 3.0 external SSDs.

SuperSpeed USB 3.0 supports transfer speeds up to 4.8Gbits/sec — ten times faster than USB 2.0. A312 SuperSpeed USB 3.0 external SSDs take advantage of USB 3.0's massive bandwidth, delivering unprecedented transfer speeds in an extremely compact mobile flash storage device. Measuring less than 3 inches long and only 0.2 inches thin, the A312 is smaller than a credit card and is designed to fit in a pocket. A312 SSDs can save a 25GB full-length HD movie in about two minutes. What used to take an hour to save will take only seconds with the A312 thanks to its scorching write speeds of up to 160MB/s and read speeds up to 240MB/s..

Aviator 312 SSDs are designed for external use, and include a carrying pouch and a USB 3.0 Micro-B cable for connection to any USB port. The 312 is fully backward compatible; it works in any USB 2.0 or 1.1 port, but requires a SuperSpeed port to reach its full performance capabilities. Unlike many other high speed external storage devices, the A312 does not require a separate power source. It draws all the power it needs directly from the USB bus. The A312 will be offered in 16GB, 32GB and 64GB capacities.

Jerry Thomson, vice president of sales at Active Media Products commented, "Aviator 312 SSDs are a ground-breaking product with performance that is eight to ten times faster than today's fastest USB 2.0 flash drives. For anyone who doesn't have hours to waste copying large files there's nothing that comes close to the Aviator 312's speed". Aviator 312 SSDs will begin shipping this quarter through Amazon at expected retail prices of $89, $119 and $209 for the 16GB, 32GB and 64GB models respectively.