Actiongram brings Hello Kitty characters to HoloLens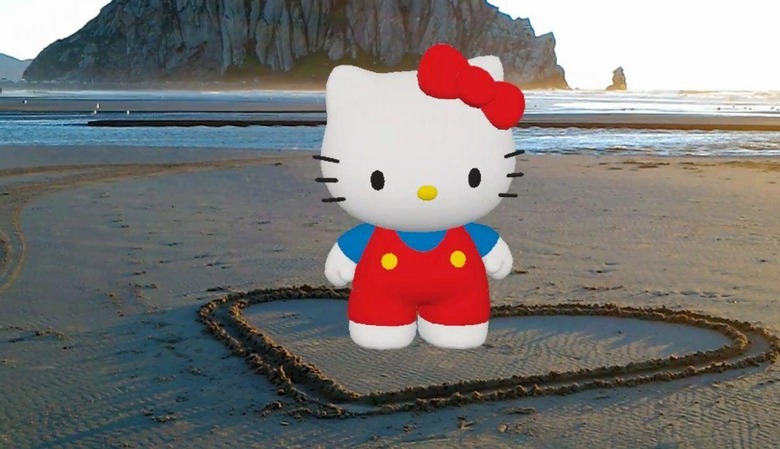 It's Valentine's Day, which means it's the perfect day for all things cute and heartwarming. If Hello Kitty falls in that particular category for you and you happen to own a HoloLens headset, then good news: beginning today, Hello Kitty holograms will begin appearing in Actiongram. Actiongram, as some of you will already know, is a HoloLens app that allows you to drop holographic characters into your mixed reality world and record the results.
Now Hello Kitty is joining the already crowded ranks, so if you've ever wanted to hang out with Hello Kitty, a zombie, and a Tyrannosaurus Rex at the same time, now is your chance. In all, Actiongram developer SPACES Inc. says that there are 14 different Hello Kitty holograms being added today. For the moment, Hello Kitty is the only character available from that particular universe, which means that all 14 holograms center around her.
However, it won't be that way forever, as SPACES says that other Hello Kitty characters will be added in the coming months. Characters that will be appearing in a future update include the likes of Badtz-Maru, Keroppi, and Pompompurin. Unfortunately for all of you Hello Kitty fans, SPACES didn't get specific when it came to a time frame for release.
Actiongram has the distinction of being one of the earliest apps available for Microsoft HoloLens. The app is still in beta, but as time goes on, more and more characters are being added. It isn't just characters either, as Actiongram's library also includes a number of visual effects, allowing you to create your own virtual reality scenes. These days, the library includes more than 500 items, making it a pretty good introduction to the world of mixed reality.