Acer's Jade Primo is a 'pocket PC' phone running Windows 10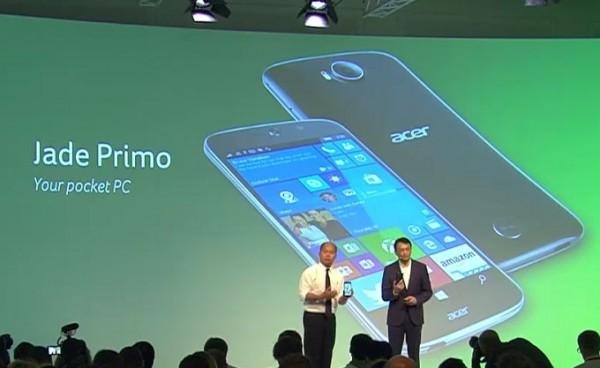 While Acer's presentation at IFA in Berlin has been full of new PC, laptop, and gaming rig announcements, the company also unveiled a prototype Jade Primo smartphone that they're hailing as a true "pocket PC." The device runs Windows 10, and not a modified version of the OS shrunken down to run on a mobile device like Windows Phones of the past, no, this is the same full-fledged Windows 10 that runs on desktops and laptops.
As one of the first phones to run Windows 10, the Jade Primo is said to support Microsoft's Continuum feature, or the plan to have the same software and apps run on all Windows devices, no matter the size.
Most of the details are thin, as again it is currently a prototype, but the Jade Primo will feature a super AMOLED 5.5-inch screen, powered by a Qualcomm Snapdragon 808 processor. A 21-megapixel camera with dual-LED flash can be found on the back, while an 8-megapixel camera is on the front.
Acer adds the phone will launch with a number of accessories, including a dock and keyboard. There's been no word about pricing or a release date, but it's targeted to be available sometime in 2016.