Acer's 800MHz Liquid Metal Froyo Phone Gets Official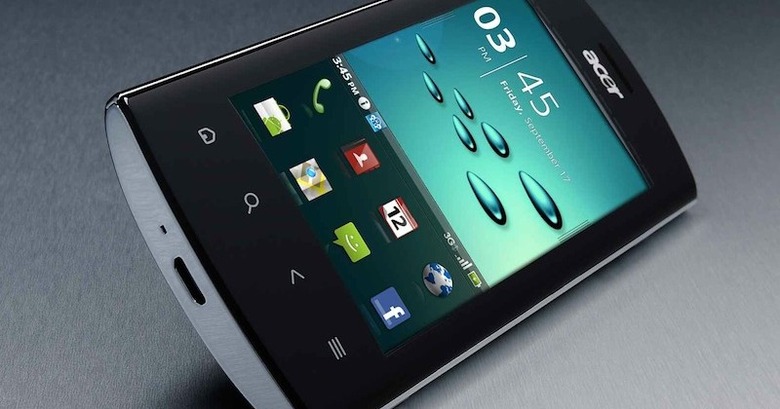 Acer's Liquid Metal Android smartphone has been made official, a 3.6-inch metal-clad handset running 2.2 Froyo on the same Qualcomm 800MHz MSM7230 processor as found in the T-Mobile G2.  The Liquid Metal packs WiFi b/g/n, 14Mbps-capable HSDPA and a 5-megapixel autofocus camera with face- and smile-detection, image stabilization, a flash and 720p HD video recording.
You can also stream content directly from the Liquid Metal via UPnP/DLNA over its WiFi connection.  Acer has thrown in Dolby Surround sound, their Breeze UI replacement and SocialJogger Facebook and Twitter aggregator too, and there's a trackwheel for speedy navigation.
The usual Froyo 3G mobile hotspot and USB tethering are supported, and there'll be two colors: silver and brown.  Acer says the Liquid Metal will drop – in brown – in November 2010, priced at £299 ($475) in the UK, with the silver version following on in early December.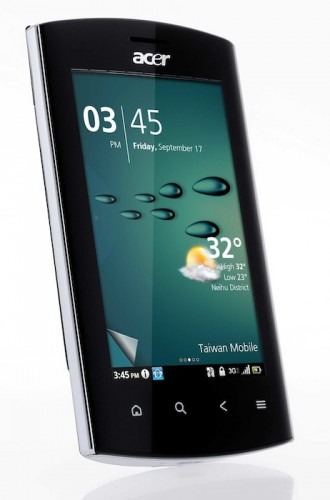 [via Android Community]
Press Release:
Acer Liquid Metal: Pure technology combing power and style

London, 29th October 2010 – The Acer Liquid Metal is the latest generation of Acer smartphones, featuring the best solutions currently available on the mobile market. Designed for all those who live a modern, dynamic, and fully integrated lifestyle, this is the perfect tool to meet the growing need to be connected anytime and anywhere. Thanks to extremely quick web surfing and an incomparable use of multimedia contents, these dreams become reality.

When we speak about technological evolution, Acer is always one step ahead thanks to its proven capacity to translate the most sophisticated technological innovations into products that are easy to use. Moulding the most advanced technologies and integrating them into the latest smartphone is the logical consequence.

Style and elegance characterise the soft, sinuous, and curvy design for the perfect grip. Liquid Metal is equipped with a rounded 3.6" display especially studied to grant a truly sensational visualization. The materials selected, like the stainless steel of the battery cover, are solid and resistant and the chrome trims give a sense of high quality for extreme tactile and visual pleasure. As in the entire Acer Liquid series, we find the LED signals on the upper part of the telephone notify the user of missed calls, the need to charge the battery, and new incoming messages clearly.

Liquid Metal steps on the gas, ensuring higher speed in all activities, especially in navigating the web, thanks to the combination of:

- the Qualcomm 7230 800 MHz process for lightning fast navigation

- Android Froyo that responds at a speed 5 times faster than earlier versions

- the new browser that enables you to open Internet pages more quickly, thanks to Flash support and the optimization of the JavaScript engine

- Connectivity that is super fast both at home or while travelling, thanks to the WiFi n[1] and HSDPA 14.4Mbps[2]

- with the multitouch function, resizing web pages, photos, or maps is easier than ever.

Liquid Metal also brings the best multimedia experience and entertainment.

- Record video in HD at 720p (30fps) and watch more high-resolution videos in Xvid format

- Take photos with the 5MP A/F camera enhanced with LED flash, image stabilizer, and facial and smile recognition

- Enjoy the thrilling audio brought by the Dolby Surround technology and customize the sound you hear with the EQ profiles and Dynamic Bass Boost.

Liquid Metal shows its excellence not only in its style and power, but brings delightful user experience by the intuitive interface and software developed by Acer.

- Breeze, the new Acer user interface was developed to manage applications even more easily. Information is visible even when the screen is locked; view the application history and quickly start up your most used appliations; customize your homescreen as you like it and re-arrange the way you access your favourite applications according to your own specific needs

- Acer SocialJogger Application aggregates your Facebook and Twitter feeds, allowing you to surf through the updates with the trackwheel, receive updates directly through the dedicated widget on the homescreen, and comment or share directly from the user-friendly interface.

Liquid Metal is transformed into a true wireless server for all your home devices through DLNA/UPnP technology. All the multimedia content memorized on the smartphone can be shared with your PC, TV or game console. Moreover, it is capable of providing your computer an Internet connection via USB. This is truly useful for travelling by train or when on vacation. The Acer EasyLink PC software is free of charge and even enables a protected Internet connection (https).

Do you want even more? This smartphone of the latest generation can become a WiFi hotspot for all enabled devices, so as to connect them to the Internet via the Liquid Metal 3G connection.

[1] With WiFi n, Liquid Metal is 10 times faster than previous devices

2 With HSDPA, Liquid Metal is 2 times faster than previous devices

The Liquid Metal will be offered in two colours: silver and brown for a SRRP of £299 inc Vat. The brown will be available first from mid November with the silver arriving in early December.