AcerCloud not Acer restricted, open to PCs, Android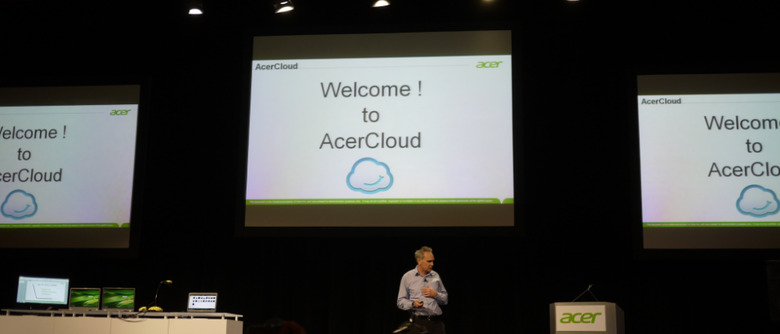 This week we're at CES 2012 to cover all things technology, and Acer's brand new AcerCloud technology is at the heart of the first press conference, as revealed on the cuff of what Acer presents as the age of Modern Day Explorers. Acer mentioned that even though the economy through 2012 was "not encouraging at all," they re-invigorate their business for both consumers and the business world. There will be four new models of Ultrabook inside 2012 from Acer, and 25-35% of their releases this year will be Ultrabooks on the whole.
AcerCloud, they say, will allow different devices across many different form factors connect with ease, they noting that while Microsoft takes care of PCs and Google takes care of Android, they will be taking care of the in-between. Acer Cloud will be compliant to "green trends," they noted, and will be the "peace of mind" personal cloud, at the same time, all users will want to use.
The set of AcerCloud apps comprises of Clear.fi Photo, first of all, an app which pushes a photo you've just taken to the cloud, then available in your Clear.fi Photo app on any other device you've got connected to the internet. As fast as your device can upload the photo, that's how fast you'll have the photo online and available through your Clear.fi Photo app on any machine. This app works with PicStream and is DLNA compatible.
Clear.fi Music is a cloud of music which connects to the web and indexes your music for playing from any of your devices. Your computer can be asleep, they note, and your music will be available since it's not your computer where it's all stored, it's Acer's cloud. AcerCloud Docs essentially works the same way with docs.
This is without a doubt just a whisper of the ways businesses traditionally in the manufacturing world will be expanding from just one group (consumer or business,) to the both of them. The hardware behind Acer's move has also been revealed this week at their first press conference, and we've got all the hands-on you could ever want. Stay tuned!