AcerCloud expands support to iOS with new features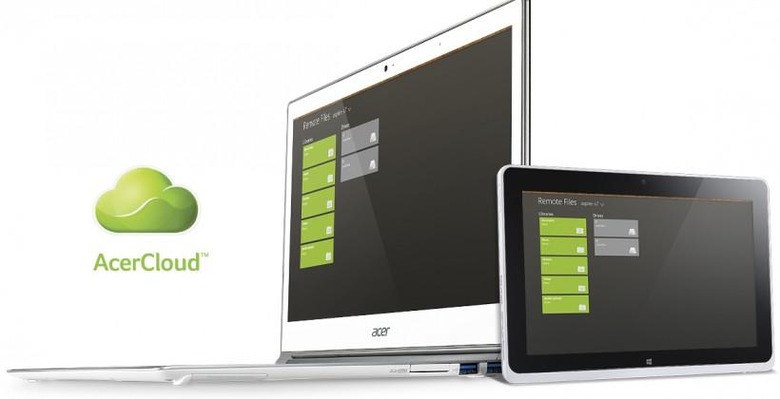 It was at last year's CES that Acer was seen touting the features of AcerCloud, but this year, the company has more to talk about. Acer has announced that AcerCloud will soon be expanding to iOS, meaning consumers will be able to share files between Apple's mobile OS, Android, and Windows. This platform expansion wasn't the only thing Acer announced today, though, as AcerCloud will also be getting a few interesting new features.
Chief among these new features is perhaps the Remote Files app, which will allow users to access their Windows-based PCs from any of their devices. With Acer Cloud Docs, users will be able to push their Microsoft Office documents to their other devices, making them downloadable and readable on iOS or Android. Acer will make these documents available for 30 days after they were last modified, and unlike AcerCloud as a whole, there isn't any storage limit when you're working with AcerCloud Docs.
Of course, your AcerCloud storage limit is determined by how much free space you have on your PC's hard drive, which potentially means that you can far exceed the storage capacity offered by many other cloud services. Considering that AcerCloud is a free service for Acer PC owners, that sounds like a pretty great deal, though you are essentially still paying for the service in terms of additional hard drive space.
Other features announced today include PicStream, which is a lot like AcerCloud Docs in that it will push pictures taken with one device to all of your machines (which then remain available for 30 days), and AcerCloud clear.fi, a feature that will let you sync your media libraries – music included – between all of your devices. This AcerCloud update will be available for download sometime this month, and Acer says that the new version of AcerCloud will be bundled with all of the company's PCs starting in Q2 2013.