Acer Ultrabook S3/Aspire 3951 lands on Italian website early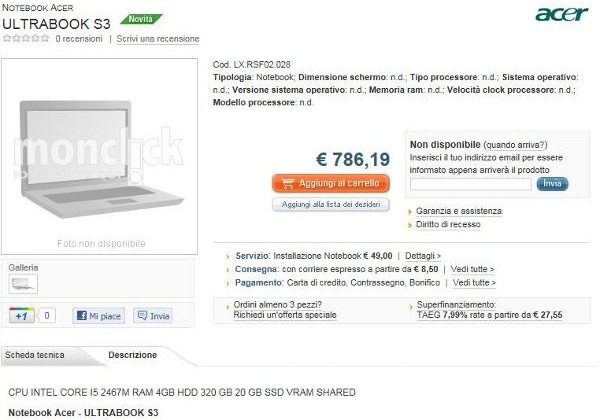 A few days ago some photos of an Acer Ultrabook S3 also known as the Aspire 3951 surfaced. The machine was lounging by the pool in the shots and other than what the machine looks like we didn't get a lot of other details. Notebook Italia reports that the Ultrabook S3 has now turned up on an Italian website with the specs and price in tow.
The machine is listed as the Ultrabook S3 and shows that the base machine packs in an Intel Core i5-2467M, 4GB of RAM, and a 320GB HDD. The machine also has a 320GB HDD along with a 20GB SSD. I would assume that SSD is the boot drive for the machine to speed performance. The base configuration has a price listed for Italy of 786 euros.
The S3 has a 13.3-inch screen, is 13mm thick, and uses the popular chiclet style keyboard. The strait conversion price as of writing would make the machine about $1,130 here in the US. That puts the price over the much talked about Intel Ultrabook price of under $1,000. That would seem to indicate that earlier hints that high-end Ultraboosk could go for as much as $1,999 are true.
[via Notebook Italia]