Acer Tempo DX900, F900, M900 and X960 WM smartphones announced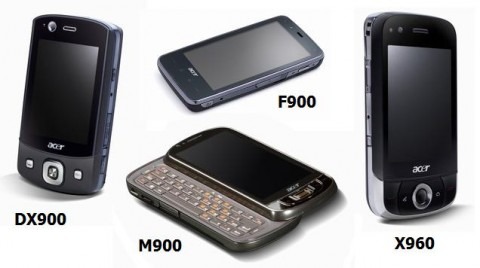 Acer have announced four new Windows Mobile 6.1 devices here at Mobile World Congress, the Tempo series, which consists of the Temp DX900, Tempo M900, Tempo F900 and Tempo X960.  Each of the devices run Windows Mobile 6.1 (rather than WM6.5) and have touchscreens; the DX900 and X960 have 2.8-inch VGA panels, while the M900 and F900 have 3.8-inch WVGA panels.  All four have 3G HSDPA, while the DX900 throws in a second SIM card slot (GSM triband only).
There's also GPS, WiFi b/g, a range of camera capabilities (3-megapixel on the F900, 3.2-megapixel on the DX900 and  X960, and 5-megapixels on the M900) and Bluetooth 2.0.  The M900 also has a full QWERTY keyboard.
No pricing or availability details on any of the four Tempo handsets, as yet.  Considering the absence of WM6.5 – and Acer's silence on a possible upgrade strategy – we're reluctant to get too excited.
Press Release:
 Acer, The Rhythm of Mobility

 

Unveiling the first set of the Acer Tempo Smartphone Series 

at GSMA Mobile World Congress

 

Barcelona, 16 February 2009  – Acer, the third largest vendor in the global PC market (source:

Gartner data, 1H 2008) is introducing a new line of smartphones with a broad range of features

and innovations. These first devices are mainly targeted at consumers who want to make use of

excellent technology both for their personal and their professional needs.

 

 

ACER M900

For all your communications on the go.

For those who need to have access to email and files at all times, the M900 is an

ideal smart handheld device. It allows you  to keep track of your activities and

access your contacts and files through  synchronization with your notebook or

desktop computer. With a full keyboard,  it is ideal for emailing and editing

documents. Preinstalled with Windows® Mobile 6.1 Professional, Outlook®

Mobile email and Office Mobile (Word, Excel and Powerpoint) users will maintain

efficiency on the go. HSDPA connectivity enables fast data transfer and the large

3.8-inch WVGA touchscreen dramatically improves your web browsing experience. An

embedded fingerprint sensor secures the smartphone and simplifies

password maintenance.

 

The M900 comes equipped with GPS, FM Radio, voice recorder and

voice-command, as well as expandable memory, and a 5-megapixel

autofocus camera with flash. 

 

High tech and reliable, the M900 provides security and convenience for the effective

management of your business communications on the go.

 

ACER F900

Slim and Smart Internet

The F900 was developed to give total control over web browsing on the go. With a 3.8-inch

WVGA touch screen and new easy-to-use touch  keyboard, the F900 is able to display more

information on screen while offering an excellent mobile browsing experience. The new user-

interface makes navigating through the device a  pleasure, providing quick links to contacts,

email messages, bookmarks, calendars, date and time, world weather and music.

The F900 comes also with an integrated 3.2-megapixel

auto-focus camera with flash, GPS, FM Radio, voice

recorder, voice command, and expandable memory.

 

With direct access to key applications via the widget-

based home screen, The F900 features easy one-hand navigation with the new

Internet Explorer® 6 supporting JavaScript and  Adobe Flash Lite, providing access to various

webmail clients and a suite of must-have internet applications. With high-speed 3.75G

HSDPA/HSUPA and WiFi connectivity, users will enjoy excellent data connections. 

 

The F900 is the perfect solution for stylish Internet connectivity anywhere.

 

 

ACER X960

Versatile and functional navigation.

The X960 is an all-purpose tool designed for those who want multiple

features without having to carry  several devices. A high-resolution

2.8-inch VGA touchscreen and five-way navigation button allow easy

maneuvering. The intuitive widget-based user interface provides quick

access to all your contacts, emails and messages, browser and

bookmarks, calendar and events, date and time, world weather and music player. Windows

Outlook and Office mobile allow for quick email access and easy reading of attachments. 

 

The embedded GPS functionality provides reliable positioning and easy navigation

with software available through retailers. The X960 comes with a VGA 3.2

megapixel autofocus camera with flash as well as a front-side camera for video

calls and a classy black and silver design. 

 

Sleek and compact, the X960 is ideal for  quick access to all your navigation

needs.

 

ACER DX900

Double connectivity and convenience.

The DX900 is the world's first Dual-SIM Smartphone to support both 3.5G (HSDPA) and 2.75G

(EDGE) SIM cards allowing you to keep track of both personal and business communications.

The touch screen allows effortless one-hand navigation while the ultra-sharp 2.8 inch VGA

display improves the web browsing experience. The DX900 has a new

interface designed for easy navigation with large finger-friendly buttons

for a smooth browsing experience. It also features 3D animated icons

and transition effects with all your most important information displayed

on one screen. The speed dial panel  features photo contacts for most

frequently used numbers 

 

With Outlook Mobile email client you can access your business email and easily

read attachments. For easy management of two phone lines and multiple

wireless connections, the DX900 is equipped with an intuitive communication

manager including a Flight Mode button  to instantly turn off all wireless

connections while each individual function can also be activated or disabled

with the press of a button. The DX900 features a front-side VGA camera for

video calls, voice recorder, voice-command, 3.2-megapixel autofocus camera

with flash and expandable memory.

 

Combining 2 phones in one, the DX900 is dually perfect for your professional and personal life.