Acer teases 1080p quadcore Iconia Tab A700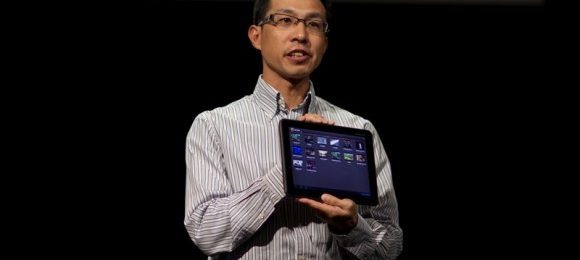 Acer may have spent most of its time talking ultrabooks at CES 2012 today, but the company also had a quick surprise for tablet fans: a new quadcore slate to take on ASUS' Transformer Prime. Briefly flashed before the assembled press – just giving us time to shoot off a picture – and then whisked away once more, the unnamed Iconia Tab, which we're guessing is the rumored A700, apparently has not only four cores but a Full HD 1080p display.
Other than that, specifications are a mystery. From the low-res picture we can make out what looks to be a camera on the back, and we're guessing it'll be joined with a front-facing webcam for video calls too. OS is obviously Android, as per Acer's more notable Iconia Tabs of the past.
Exactly when we can expect this new model to reach shelves – or even to be shown for more than a couple of seconds – is yet to be announced. So far Acer has satisfied itself with rather more mundane options, including the budget-friendly A200, but the talk of an A700 with a 1920 x 1200 display and Tegra 3 chipset, 5-megapixel rear camera and all three of 3G, WiFi and Bluetooth certainly has us interested.
More on the rumored Iconia Tab A700 here.