Acer reveals a new generation of Windows 10 powered PCs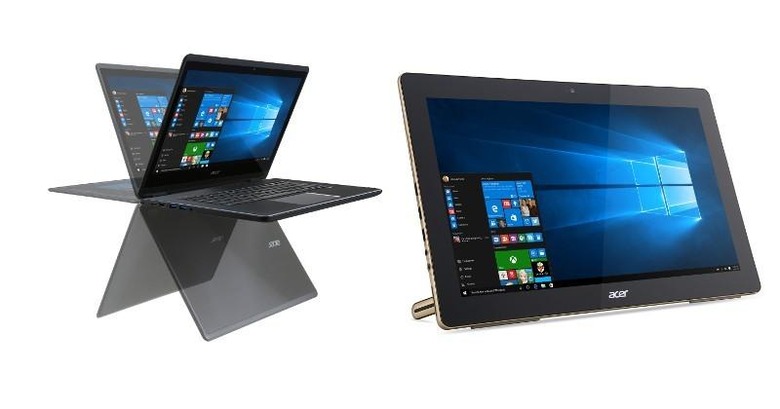 Microsoft has set the pace for Windows 10 devices when it unveiled the new Surface Pro 4 and the surprising Surface Book and now OEMs are picking up the beat. While it might be a bit hard to outdo the media flurry that the Surface Book kicked up, PC manufacturers are nonetheless offering some interesting new choices as well. Acer's new Aspire R 14 convertible and its slightly portable Aspire Z3-700 all-in-one today take the stage at Taipei to show off the company's vision for Windows 10 computers.
The Acer Aspire R 14 is the company's latest entry into the form factor first popularized by Lenovo's YOGA line. Now sporting a thinner 360-degree dual torque hinge, the convertible offers the familiar four modes of operation with even more refined quality and flexibility. With a diamond-cut edge design, the laptop looks premium whether used in traditional laptop mode, tablet mode, tent, or display.
Equipped with Acer's Purified Voice digital signal processing technology, the Aspire R 14 promises clear voice input to drive Cortana with ease. And being powered by a 6th gen Intel Core processor with up to 8 GB of DDR3 RAM, the convertible also promises smooth Windows 10 performance all around.
When you hear of all-in-one PCs, you most likely think of hulking touch screens. But at only 17.3-inches, 15.6 mm thick, and 2 kg light, the new Acer Aspire Z3-700 defies expectations, allowing users to relocate the PC when necessary. With two kickstands, the AIO can even transform into a gigantic tablet for play.
This PC is also about serious business, with a Full HD screen, driven by an Intel Core Skylake chip with up to 8 GB of RAM. Interestingly, the PC also has an internal battery that can last 5 hours when not connected to an outlet, adding more to the portability of the huge screen.
One thing that Acer has over its PC maker rivals is that it already has a Windows 10 Mobile device ready for the market. Announced at IFA 2015 last September, the Acer Jade Primo is one of if not the first smartphone outside of Microsoft own Lumia line to have Windows 10 running out of the box. Continuing its theme of the Jade Primo as your pocket PC, Acer is demonstrating how the 5.5-inch smartphone will behave with Microsoft Contiuum.
The Acer Apsire R 14 will be available in North America late October with a price tag starting at $699 and in EMEA for €799. The Aspire Z3-700, on the other hand, has no price tag yet for North America but will launch in EMEA later this year starting at €599. In addition to these new additions to its PC Windows family, Acer is also introducing some special offers for its US customers. The 2-in-1 lapto/tablet hybrid Acer Switch 11 V, model SW5-173-65R3, gets a $100 discount from $649 to $549. The Aspire V3-574TG-749V, a traditional notebook, goes from $899 down to $799 only.
Finally, the convertible Aspire R 13 R7-371T-70NY, predecessor of the new Aspire R 14, gets an even bigger discount, going from $1,499 to $1,299. These reduced prices will only be in effect from October 12 through 18 and available only from the Acer Store.