Acer Predator gaming PC: quad-core CPU & mechanical codpiece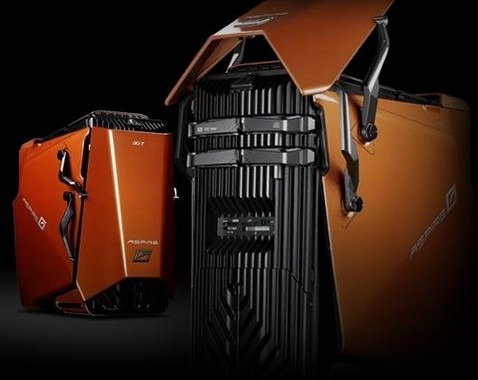 According to Acer's dramatic tagline, their new Predator gaming PC range is "Faster. Deeper. Harder. Further."  The metallic orange desktop certainly catches the eye, though I'm not sure everyone will appreciate the looks (or the mechanical drive bay cover, which reminds me of a trash lorry mechanism); however what will likely impress is the guts of the beast.  An overclockable quad-core Core 2 Extreme CPU with liquid cooling, up to 8GB of DDR2 800/1066 RAM and three NVIDIA GeForce 9800 GTX video cards.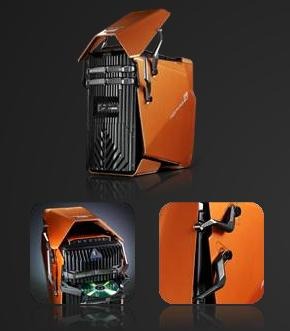 The odd mechanical codpiece covers up two 5.25-inch bays, ready and waiting to be spec'd with a DVD burner, BD/HD DVD drive or both if your budget extends.  There's also a multiformat card reader and a total of eight USB 2.0 ports (four up front, four round the back).  Gigabit ethernet is par for the course, but the WiFi is only b/g, not draft-N, which seems unusual compared to Acer's rivals at Alienware. 
Storage is ample, though, with four easy-access 3.5-inch SATA bays that can be set up for RAID 0, 1, 5 and 1+0.  Acer offer up to 1TB of total capacity.  Audio is the usual surround sound with all the digital gubbins, and there are two eSATA ports and an optional TV tuner.
Acer are keeping quiet on price and availability details so far, but expect it to be high-end just like its rivals.
[Thanks Alex!]