Acer P5260i WiFi projector for streaming HD video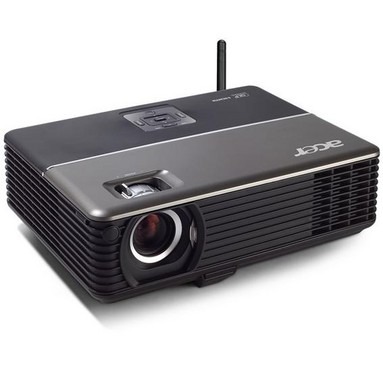 Acer are describing their new P5260i WiFi projector as for "professionals", but I don't see why people in suits should have all the fun.  The XGA 1024 x 768 resolution unit features WiFi b/g-based technology that allows straightforward streaming of 720p/1080i high-definition video wirelessly rather than by a dull old cable.  Yes, it's intended for meeting rooms and PowerPoint hell, but I'd much rather have one in my living room and hook up a super-portable UMPC.
Video formats including MPEG1, MPEG2, MPEG4, WMV9, AVI, DivX, XviD, ASF and VOB are compatible with the projector, but if you're a traditionalist there are D-Sub, DVI-D and HDMI inputs too.  The P5260i uses DLP technology, boasts 2700 ANSI Lumens brightness and manages a respectable 2000:1 contrast ratio.
In fact the only downside is, thanks to the business leanings, the native aspect ratio is 4:3.  That doesn't mean it can't display a 16:9 picture, but it'll be somewhat chopped down.  The P5260i is available now. 
[via Pocket-lint]