This week there's a brand new Android smartphone on the block, the Acer Liquid E1, complete with a unique set of casings and the near-newest version of Android onboard. This smartphone is ready for the top of the mid-range with a 4.5-inch display that's bringing in 540 x 960 pixel resolution and Android 4.1.1 Jelly Bean out of the box. This smartphone is clearly not meant to go to war with the highest-power smartphones on the market today, instead making certain Acer is able to deliver an Android device that's up-to-date with what the Android universe is offering in general, so to speak.
The Acer Liquid E1 is 132 × 68.5 × 9.9 mm in physical size, weighs in at 130g, and is going to be available (at least at first) in white only. On the back of the device as well as the front you're going to see speaker grilles, these prepared to work with the DTS surround sound technology included in the device. Onboard you'll also find Acer's own DTS-ready video and music apps along with the standard Google fare.
NOTE: This is a device that takes on the name of the original Acer Liquid from back in 2010 – a lot has changed since then!
Under the hood you've got a dual-core 1GHz processor (unnamed at the moment) as well as 1GB of RAM, 4GB of internal storage, and a microSD card slot for memory expansion. You'll be working with a 5 megapixel camera on the back, a front-facing camera for video chat, and a 1760 mAh battery to keep you running all night long. Bluetooth, GPS, FM Radio, and HSPA connectivity are included as well.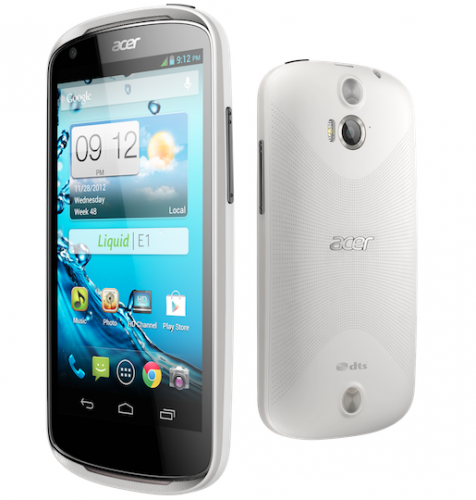 You'll be connecting with a standard microUSB port for charging and data transfer with your PC if you do so desire. This machine uses a standard SIM card size (still prevalent across the planet, mind you), and will likely not be working with 4G LTE in its lifespan internationally or inside the USA. This device was, if you'll remember leaked in December of 2012 – here it is again!
This device is not yet announced as being available for the USA, but you can bet it'll be released internationally before the year is over. We'll also quite likely be seeing it at Mobile World Congress 2013 along with the rest of the massive amounts of mobile madness that come with said event. Be sure you stay tuned to the Acer tag as well as our MWC 2013 tag portal for all the latest and greatest as this and many more miraculous machines come forth over the coming weeks and months.
[via Eurodroid]