Acer K330 Projector hands-on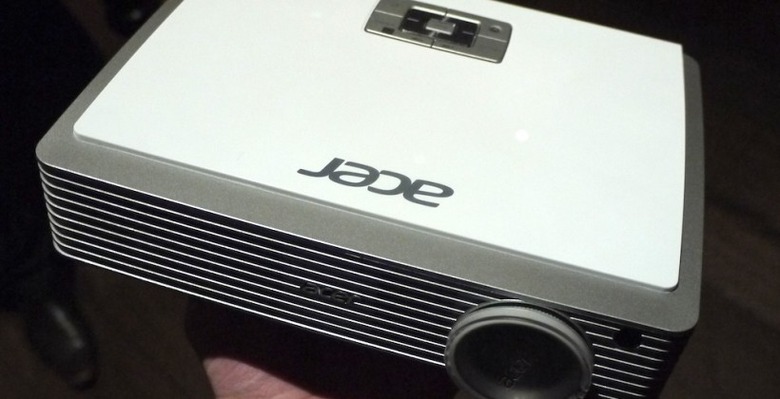 Acer has officially launched its K330 projector, the first LED model to pack a 500 lumens LED lamp, and with a footprint smaller than a magazine. Running at WXGA 1280 x 800 resolution and promising a 4,000:1 contrast ratio, the K330 not only offers the usual HDMI, component and composite inputs, but PC compatibility, optional WiFi and even an SD card slot and USB port to bypass your Blu-ray deck or computer altogether.
In fact, there are also VGA D-Sub and both regular USB and mini USB ports, as well as a stereo audio output. Acer reckons the LED light will last for up to 20,000 hours, while the K330 will supposedly sip a mere 1W in standby mode.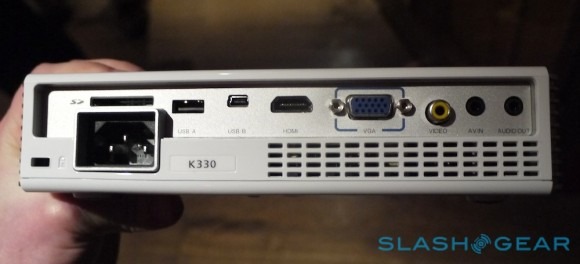 It's the size that's the real surprise: it was only when we saw the size of the AC socket on the back that we realized quite how compact the K330 is. Acer is positioning it as an ideal home entertainment model but also ideal for traveling professionals, who'll be able to run multimedia files – including MPEG4 – and presentations directly from a memory card.
The brightness may be a little lower than some, the company admitted to us, but the LED system means contrast is meant to be particularly impressive, especially given the scale. The Acer K330 is on sale now, priced at around £498 ($787).