Acer introduces AZ5 and AZ3 all-in-one PCs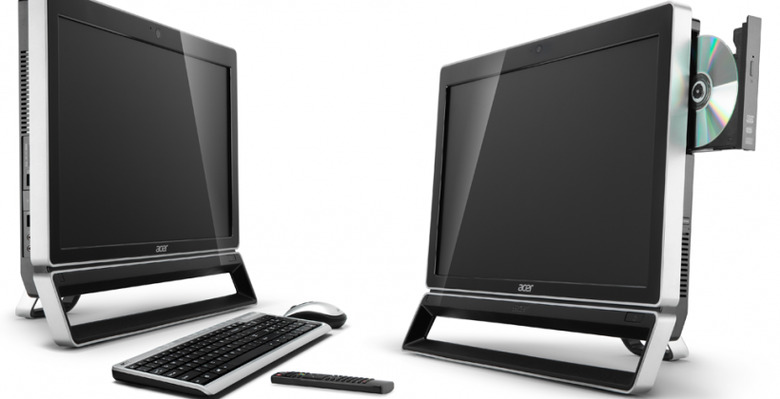 This week Acer reveals two new all-in-one computers, the AZ5 Series with a 23-inch HD monitor and the AZ3 Series with a slightly smaller HD monitor at 21-inches, both computers featuring full touchscreen capabilities. Both series have several hardware options for processors, speakers, and storage, and contain a selection of software offered exclusively with Acer devices. You'll notice that these AIOs look rather similar to one another – that's because they're meant to be part of a single release. Not that you'll want both the 23 and the 21 inch machine, but know now that you'll get essentially the same look either way.
Both series are made to center around the idea that the touch display is the place for the organization and exploration of sets of media like images and music as well as "browsing online recipes and viewing social networking sites," as senior business manager of consumer desktops for Acer Irene Chan puts it. The "quick, finger-tip control" seems custom fit for the upcoming large-scale release of Windows 7, an operating system that relies heavily on the idea that it'll be used on devices with touch-sensitive displays.
The Acer AZ5 is, again, a 23-inch multi-touch display having all-in-one desktop series that comes complete with two 2.5W built-in stereo speakers with Dolby Home Theater audio, 4GB DDR3 memory, and processor options that include no less than a Intel Core i3-2120 processor, topped off with a 1TB hard drive to store everything you hold dear in this digital world. For software this Acer machine offers clear.fi for media storage and management, this application automatically syncing will all of your other Acer devices with the same software, this including smartphones, notebooks, desktops, storage devices, and multimedia players.
The Acer AZ3 is the smaller of the two choices here at 21-inches with the same HD multitouch panel technology, this time backed up by some similar, but not the same, gear on the inside. There's the same two 2.5W stereo speakers optimized by Dolby Home Theater audio, one 500GB 7200RPM SATA hard drive for plenty of storage of all your goodies, some utterly lovely AMD Radeon HD6410D Graphics to play all your media all night long, and a AMD Dual-Core A4-3400 Accelerated Processor (at 2.7GHz, 1MB total L2 cache) to run it all.
Each of the two models here has a 1.3-megapixel front-facing webcam plus microphone for video chat, two USB 3.0 ports on the side, and four USB 2.0 ports on the back. Both units have a multi-in-one digital media card reader, and both come with an adjustable back stand as well as 802.11b/g/n Wi-fi. Both also have a standard wireless keyboard and wireless mouse so you're set to go right out of the box.
Both the AZ% and the AZ3 come with Windows Home Premium 64-bit, a one-year warranty, and the following prices: $749.99 for the AZ5 and $649.99 for the AZ3, both of these prices of course being MSRP – check your local retailer for the final true price.