Acer Iconia Tab 2012 Hands-on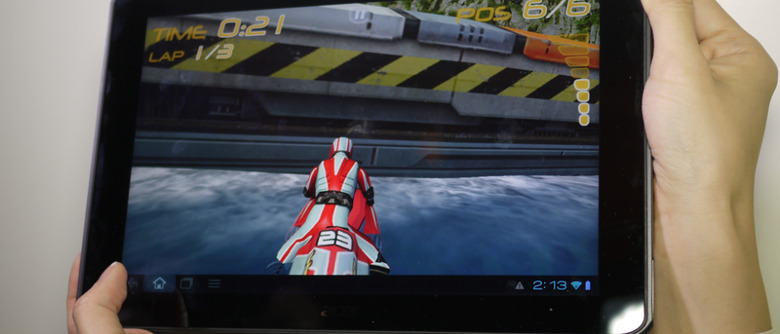 Acer dropped a gigantic teaser in an Android tablet which works as its next generation Acer Iconia Tab, it having massive high definition display, quad-core chip, and a whole new form factor. The high definition display sits at 1920 x 1200 pixels, it runs Android 4.0 Ice Cream Sandwich, and it runs an NVIDIA Tegra 3 quad-core processor. We got a bit of a hands-on look at the device at the Acer event right here at the start of CES 2012 – have a peek!
What this device essentially represents is the next generation 10-inch tablet for Android. It's display is massively impressive, working "like" IPS, they note, but delivering such HD quality that "Hollywood wont like it." How about that? Look like the tablet for you inside the second half of 2012?
This device has been previously leaked just last month, and all of the specs appear to have stuck: a gigantic 9,800 mAh battery, back-facing 5 megapixel camera, micro USB and microHDMI ports under the lovely little cover on the side, power port near the power button on the left-top, and a cool stylized back. This looks to be a definite step up in all categories compared to Acer's last effort, especially int he display department, but twice as nice with both Ice Cream Sandwich and quad core under the hood. Lookin good, Acer!