Acer Iconia One 7 tablet taps into Intel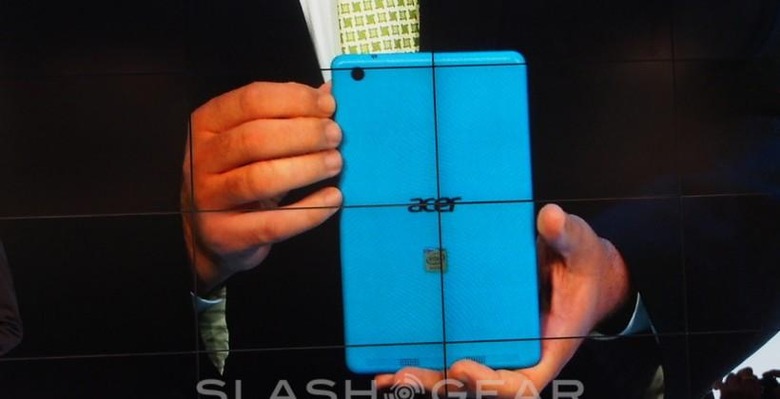 The team at Acer have begun releasing their 2014 collection of devices, starting with convertibles, desktop devices, and the all-important tablet. The Acer Iconia One 7 is a device that works with a look that's very, very similar to recent tablets released by Acer and ASUS. If you took the name off the back, you'd easily mistake it for a Google Nexus 7.
The Iconia One 7 is a tablet with an HD IPS display – with unknown resolution at the moment – and an Intel-made processor inside. Acer suggested this week that the Intel processor inside the Iconia One 7 works with a dual-core CPU, suggesting it'll be on the lower end of the spectrum for processing power.
UPDATE: The display resolution on this machine is 1280 x 800 and you'll find that it's working with Android 4.2 Jelly Bean right out of the box.
There'll be a microSD card slot on this tablet, likely somewhere around 16GB of internal storage space, and – with said card slot – the ability to expand storage on the go. This tablet works with several different colors right out the gate, including Black, Blue, Pink, and Silver.
UPDATE: This machine is now said to be coming in a whopping 10 different colors.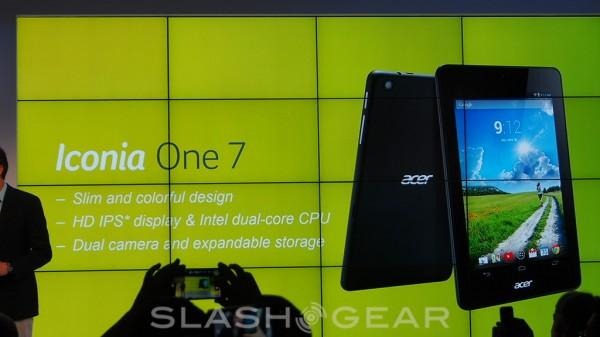 The back-facing camera on this device is 1.9-megapixels while its front-facing camera is 0.3-megapixels in power. This means you'll be able to shoot, but not any sort of award-winning photos, so to speak. Inside you'll find a 3000mAh battery as well.
This device will likely sell for around $100 or $150 USD inside the United States later this year. "Later" as in we're expecting it to be out by mid-summer.