Acer Iconia A1-830 Tablet Review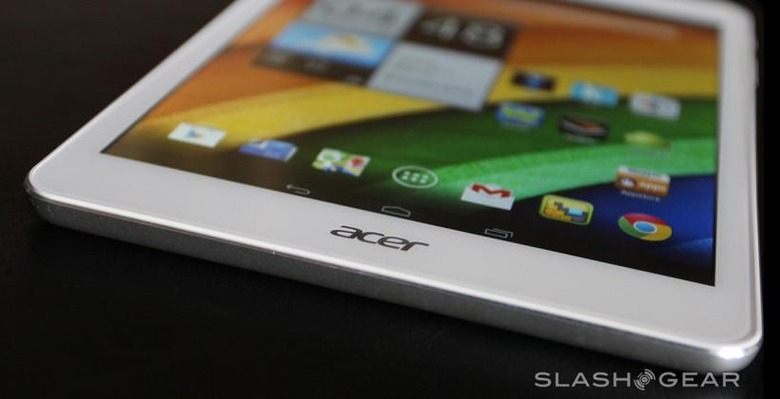 Today we're having a look at a tablet that's very familiar, yet a whole new concept in Acer's brand of tablet releases. Here with the Acer Iconia A-830-1633, you're getting an Android tablet that's working with a 7.9-inch display with a moderate resolution, brightness, and a processor under the hood that should be able to bring you the best in news-reading apps and video. So what's the holdup?
Hardware
With the Acer Iconia A1-830 you're working with a display that's just 1024 x 768 pixels sharp. That means you're not on the high end, but you're not working with a display that's unbearably pixelated. If you've only ever used a laptop before – one from several years ago, for example, you'll likely find this tablet to be more than sharp enough.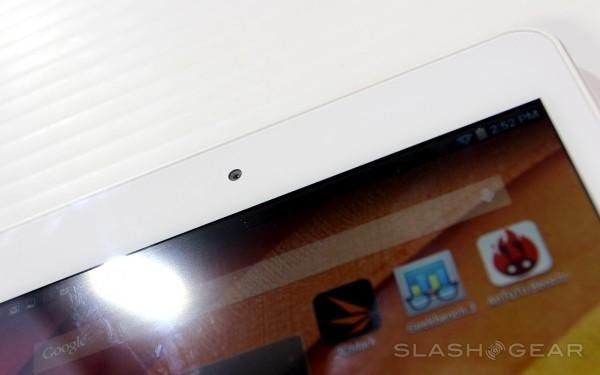 This machine works with a 7.9-inch display with the same amount of pixels across it as the non-retina iPad mini. The iPad mini also works with a 7.9-inch display, making these two units quite similar when it comes to screen sharpness. Both devices also have LED backlighting, making the experience similar if you're working with the exact same content — but unless you're just the web-browsing type, you've got completely different experiences as it were.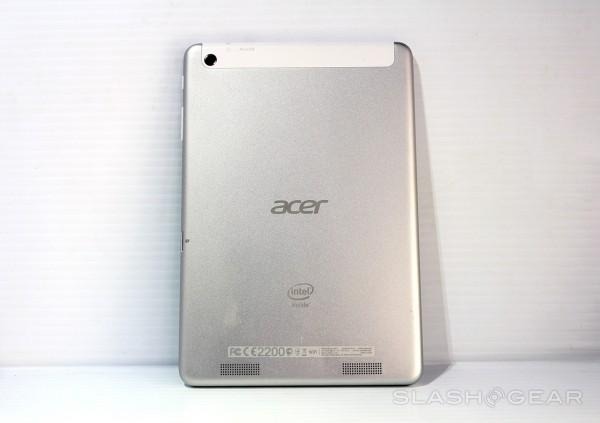 This device works with Android 4.2.2 Jelly Bean and is powered by an Intel Atom dual-core processor (Z2560). We've seen this machine roll with a number of benchmarks in which it did OK, and every app we've seen it run, it's run with great ease.
Note above that benchmark scores are relative – make sure you have a peek at our hands-on video below for a show of real-life functionality. This device is swift and functional in everyday tests without a doubt.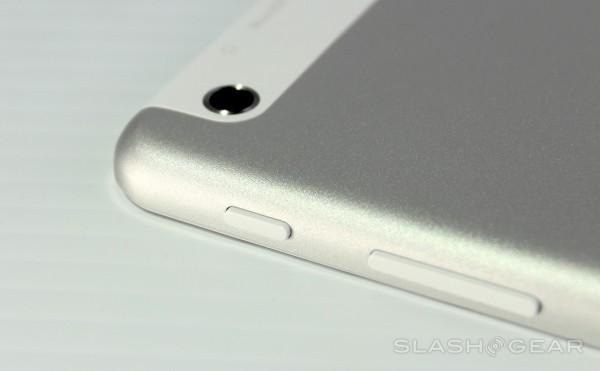 Inside you'll find 16GB of internal storage and you've got a microSD card slot for storage expansion, and this device has 1GB of RAM to keep your processor humming. There's a 5-megapixel back-facing camera and a 2-megapixel front-facing camera, and you've got what Acer calls "dual speakers".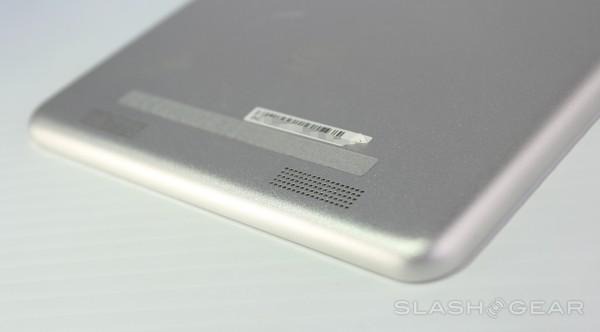 In practice all this means is that you've got two speaker grilles on the back of this device, both of which are in generally the same area – they don't compare to, for example, the NVIDIA Tegra NOTE 7 – not by a long shot.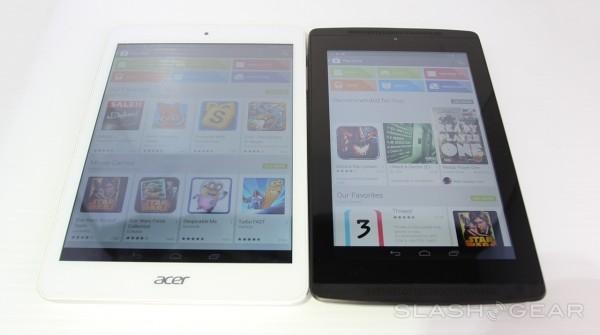 This tablet is 8.43" (L), 5.04" (W), 2.52" (H) in size and weighs in at a tiny .83 lbs. | 375g (system unit only). You'll also have a G-Sensor & Gyroscope as well as GPS with GLONASS.
Software
This device comes with Android 4.2.2 Jelly Bean with a build that's Acer's own. Most of the user interface looks very much like Google built, while a number of apps have been added by Acer. Below you'll see the full collection right out of the box.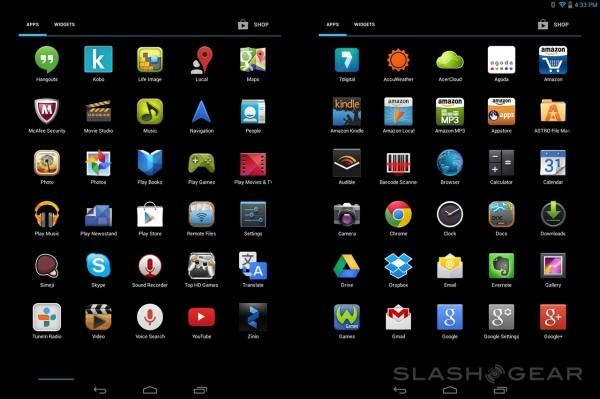 WildTangent Games brings on a set of games Acer knows will work well, while e-reading functionality is provided by Zinio and Amazon Kindle Play Books. Google presents all the standard fare: Play Store, Play Music, Play Movies, and Google Maps as well as YouTube, while you'll also be able to play your media locally with Acer's own Music app. This tablet also connects with your other Acer devices with the Acer Cloud app.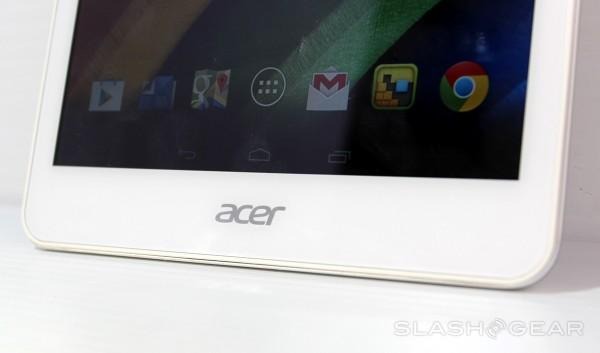 This device is also a standard Google Android device, meaning you'll be able to download and work with most any Android app from the Google Play app store. This is also true of your Google account, bringing you every Android app you've ever purchased in the past to this tablet as well, free of charge.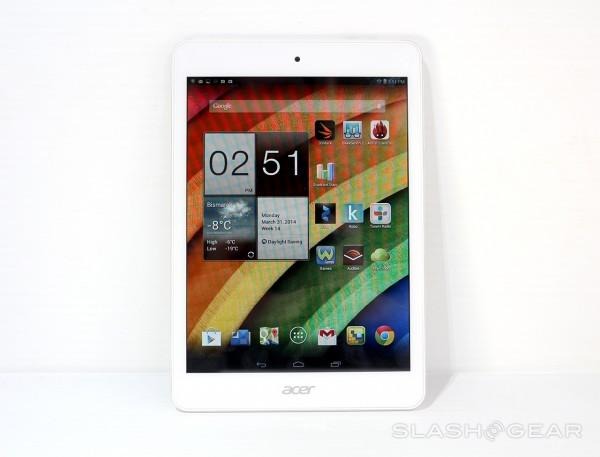 Most functions on this device are still handled by Google, regardless of Acer's make. It's more of Acer's show in the hardware department, really, while Acer leaves Google and Amazon to handle the software show (for the most part.) In the end, the right people are left up to the right tasks.
Camera
The Acer Iconia A1-830 works with a 5-megapixel camera at its back with no flash. It's simple, and it's not really meant to compete with your high-end cameras, or indeed even your smartphone. Instead it's made for the most basic photos and video.
Here you'll see a number of examples of video and photos from the Acer Iconia A1-830 taken in a number of environments. This device presents a camera that's just good enough, with a camera up front that's good for video chat, and not much else.
Battery
While this device isn't going to last more than a couple full-length movies before you need a charge, standby time is astounding. We've had the Acer Iconia A1-830 on standby mode for 10 days at a time – really top-notch.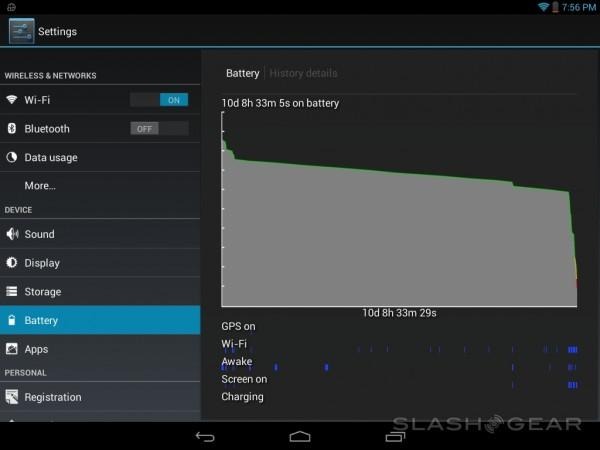 If you're looking for a device to play solitaire or Angry Birds on when you fly from one end of the country to the other, this is certainly it. Working with the entire Google back-catalog of Android apps and 4000 mAh battery under the hood – paired with a relatively low-needs display – you'll be set for the full trip.
Wrap-up
Acer has really come out swinging with this device. Not unlike what Motorola did with the Moto G, here Acer creates a tablet that looks great and works great at its price point. At $180 USD, this device is ready to take on the rest of the market at that point without a doubt.
NOTE: Above you're also seeing a rather fabulous folding cover from Acer official as well. We recommend buying one if you get the other, for sure.
While the cheapest iPad mini costs $299 USD (that's non-retina) and the Google Nexus 7 will cost you a cool $229 USD, Acer's device is sitting at the perfect place for new users. The only real competition we see at this point for this device is the NVIDIA Tegra NOTE 7, working with a $199.99 price point and a slightly smaller display.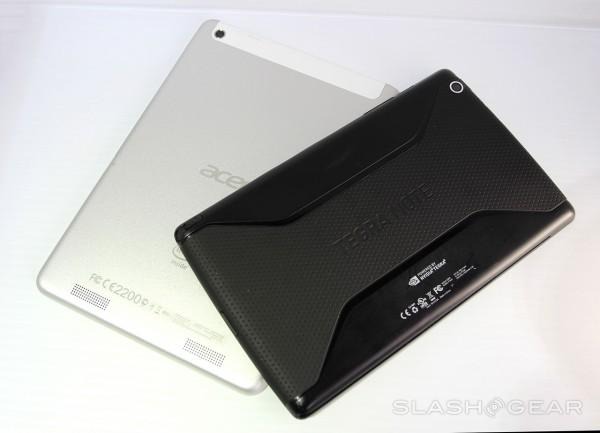 If you want a new tablet with Android and a set of specifications that are more than worth their price and you're not about direct spec-for-spec comparisons, the Acer Iconia A1-830-1633 is your winner. Have a peek at the device above and let us know what you think.