Acer Hornet 1080p Ion nettop specs leak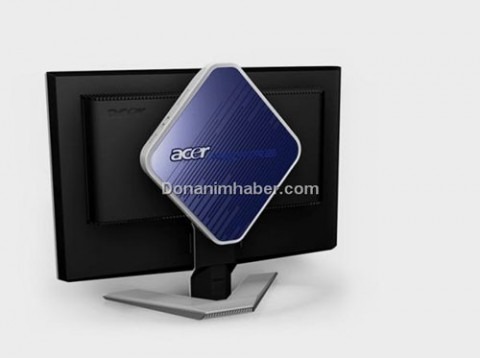 The Acer Hornet NVIDIA Ion-based nettop we spotted back in February has just had an extra shot of authenticity, in the shape of an SKU sheet detailing the three different versions planned.  Designed to grip tenaciously to the back of a flatscreen display, the Hornet supports 1080p playback, HDMI and, in the Media Center incarnation, a Wiimote-style wireless controller.  Full spec breakdown after the cut.
The three models are defined as Standard, Deluxe and Media Center.  All have what's believed to be an Intel Atom N230 processor, which the Standard pairs with 1GB of RAM, an 80GB hard-drive (possibly doubled by launch) and Vista Home Basic.  The Deluxe and Media Center models have 2GB of RAM, 160GB hard-drives and Vista Home Premium, as well as a quick-loading "Boxshell" Linux OS.
The price range is expected to span $149 to $299 when the Acer Hornet nettop arrives in Q2 2009.  Still no official word from Acer on the device, but we're crossing our fingers.