Acer H6510BD Projector Brings 2D To 3D With NVIDIA 3DTV Play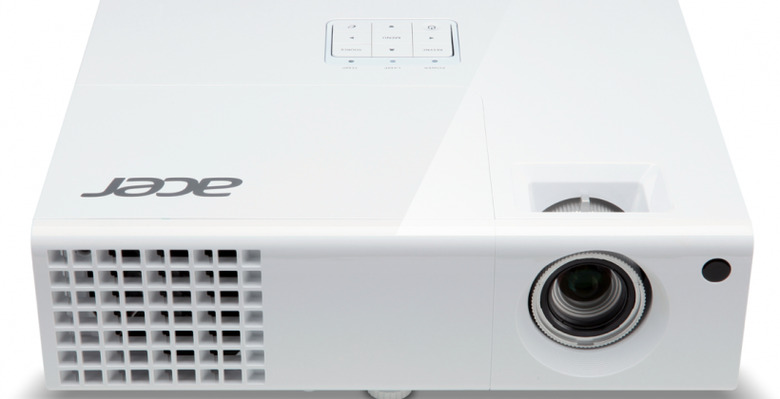 This week Acer is bringing the heat with a cool new projector that works with several new-age technologies that make 3D media a reality for your own home environment. With the Acer H6510BD Projector you'll be supported with Blu-ray 3D, DLP 3D, and NVIDIA 3DTV Play technologies to back you up. At Full HD 1080p resolution with a massive beast of a brightness at 3000 ANSI lumens, you'll have the Tuesday Movies Night of your life!
This projector is able to bring on a fabulous 10,000:1 DynamicBlack contrast ratio for the most crisp execution of graphics you've ever seen. You'll find that you're projecting at a rather green speed as well with ExtremeEco mode. Acer says that this mode allows you "up to 70 percent" power savings and will extend the life of your device's lamp "up to 7000 hours." That's quite significant, needless to say.
So you'll be using this device not just to watch movies projected from – for example – your laptop. With a compact size – 10.4 x 8.7 x 1.3-inches and a weight at just 4.8 pounds, you'll be able to bring it along in your backpack wherever you please. Of course you could also hook it up to your gaming PC and project to a massive wall in your basement for 3D gaming galore – can you imagine a next-generation title like Destiny rocking out at 1080p and in 3D on your wall next year?

With this projector's 2D-to-3D conversion technology, you'll be able to, as Acer says, "[convert] into 3D any 2D picture or video signal that passes through the HDMI port." We'll see how this tech actually stands up when it's available for demo rather soon. Until then, you'll also want to know that you've got Analog RGB/component video (D-Sub) for input along with component (three RCA), S-Video (mini DIN), and Composite video (RCA), as well as HDMI (video, audio, HDCP) x 2. This is all joined by regular PC audio via a stereo mini jack.
You'll be able to buy this Acer H6510BD Projector immediately if not soon for a cool $799 USD MSRP. This price includes a limited one-year warranty and is sure to be irresistible to those of you out there with an itch for 3D on a massive scale. Let us know if you're planning to dive in!