Acer ConceptD 7 Ezel and ConceptD 700 PC pair style with speed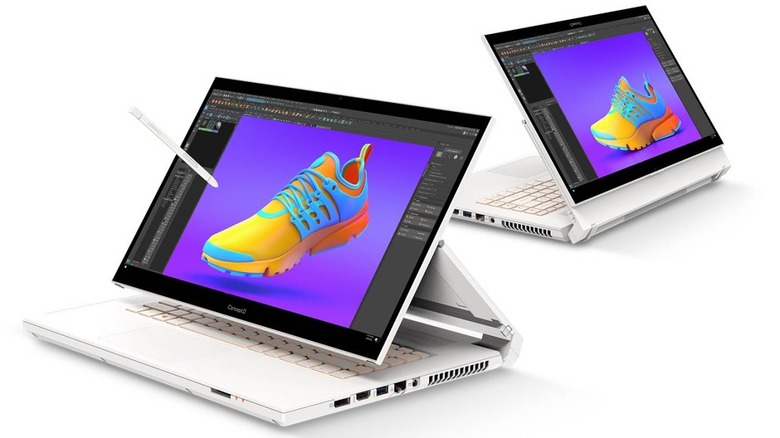 Acer's Creator PC range is getting two new additions at CES 2020, with the Acer ConceptD 7 Ezel notebook and ConceptD 700 workstation promising beefy Intel chips, NVIDIA graphics, and eye-catching designs. First announced in April 2019, the ConceptD line-up targets designers, engineers, and other creators, particularly those who might typically head straight to their nearest Apple Store when they need a new machine.
Acer ConceptD 7 Ezel and Ezel Pro
Acer's new performance notebooks pick up on the "Ezel" form-factor it introduced last year, with a convertible design that allows the screen to be twisted and pulled forward over the keyboard for easier graphics work. In addition, the notebooks can be flipped into a full tablet or propped up for presentations.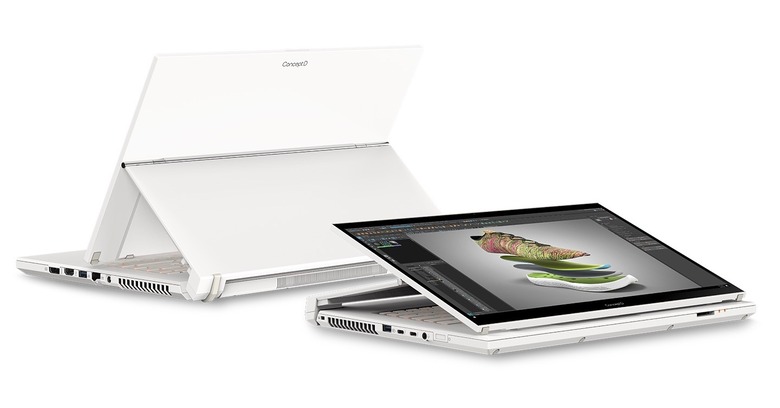 Both the ConceptD 7 Ezel and the ConceptD 7 Ezel Pro get a 15.6-inch 4K Ultra HD touchscreen, with 400 nits of brightness. The 3480 x 2160 resolution panels boast 100-percent Adobe RGB color gamut support as well as Pantone Machine System PMS color matching. Wacom digital pen support is standard.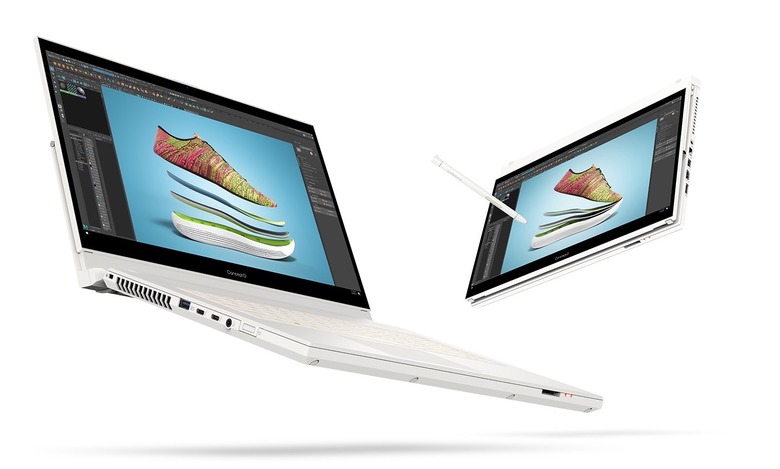 Acer covers the displays with a layer of Gorilla Glass 6, in case of drops or scuffs. They also get an anti-glare coating for more flexibility regardless of the angle of the Ezel hinge.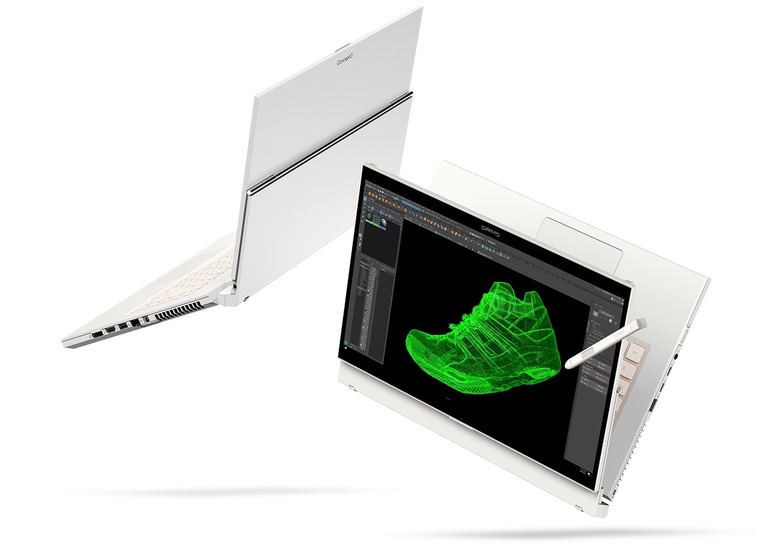 In the ConceptD 7 Ezel, there's up to an Intel 10th Gen Core H-series processor, NVIDIA GeForce RTX graphics, up to 32GB of DDR4 memory, and up to 2TB of PCIe SSD storage. The ConceptD 7 Ezel Pro kicks that up to Intel Xeon processors, NVIDIA Quadro RTX graphics, and ECC memory support.
Both have two Thunderbolt 3 ports, a DisplayPort 1.4 output, HDMI 2.0, and an SD card slot. There's an integrated fingerprint reader on the power button, and Acer has used a micro-arc oxidation process to make sure the white finish stays that way. Despite the power on offer, the company says the notebooks should produce less than 40 dB of sound, even under load.
Acer ConceptD 700 Workstation
For those looking for maximum performance at their desk, meanwhile, there's the ConceptD 700 Workstation. That packs an Intel Xeon E processor and up to NVIDIA Quadro RTX 4000 graphics, and can be configured with up to 64GB of 4x DIMM 2666 MHz DDR4 memory. PCIe M.2 SSD storage is available too, while four internal storage bays can be packed out with 2.5- and 3.5-inch drives.
As with the notebooks, Acer is quoting a low volume output of just 40 dBA. Helping there is the thermal design: three cooling fans at the front. At the top, there's a wireless charging pad for your phone and a pop-out headset cradle, along with a selection of ports.
Pricing and Availability
Acer says that the ConceptD 7 Ezel will go on sale in North America later this year, priced from $2,699. The ConceptD 7 Ezel Pro, meanwhile, will arrive in July. It'll be priced from $3,099.
As for the ConceptD 700 Workstation, Acer says that will be priced from 1,699 Euro when it goes on sale in Europe from March. North American pricing and availability are yet to be confirmed.