Acer ConceptD laptops and desktops tease disillusioned Apple pros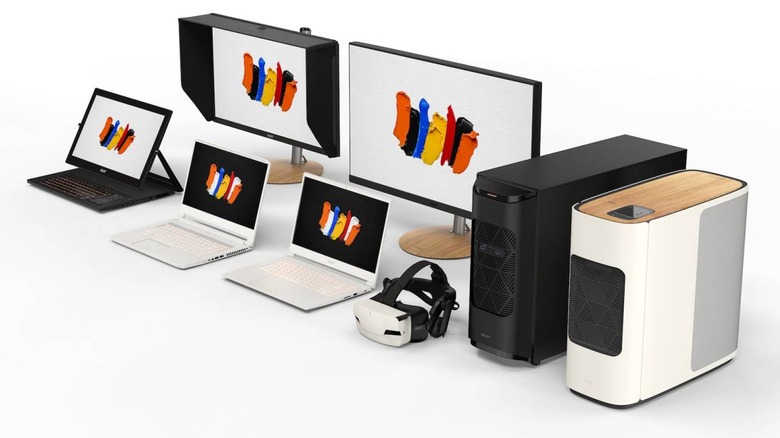 Acer has revealed its new ConceptD line, looking to squeeze onto the desks – and into the hearts – of content creators who may be feeling abandoned by Apple. The new range will include desktops, notebooks, monitors, and Windows Mixed Reality headsets, putting top-spec processors, storage, and graphics into cleanly cohesive design.
Acer ConceptD Notebooks
Flagship of the ConceptD notebook range is the Acer ConceptD 9. It has a huge 17.3-inch display, Wacom-enabled for graphic artists, and mounted on a rotating hinge so that it can be pulled down over the keyboard for when you want to focus on sketching or drawing.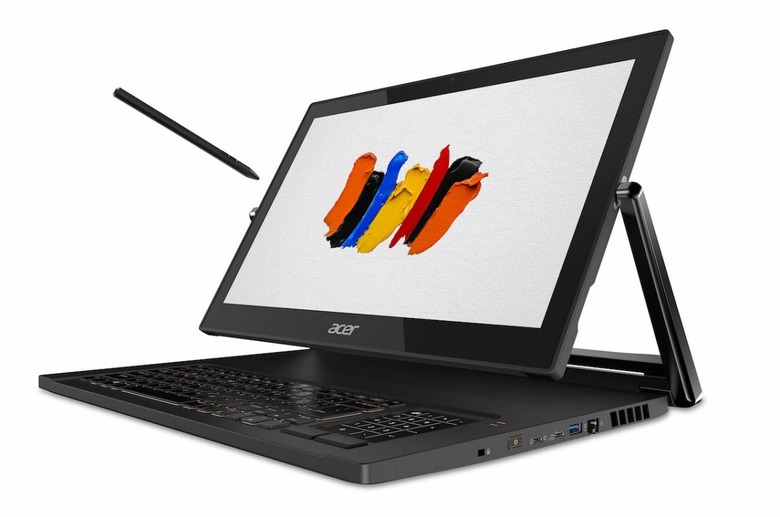 The IPS screen runs at Ultra HD 3840 x 2160 resolution, and 400 nits brightness. It supports 100-percent of the Adobe RGB color gamut, and is Pantone Validated. Driving it is NVIDIA's GeForce RTX Gen 2080 graphics card.
Performance comes courtesy of Intel's 9th Gen Core i9 process, paired with up to 32GB of dual-channel DDR4 SDRAM. Storage is up to 1TYB of NVMe memory in RAID 0 SSD configuration. There's a Thunderbolt 3 port, an HDMI 2.0 port, DisplayPort 1.3, and two USB 3.1 ports, along with gigabit Killer Ethernet E3000, 802.11ac WiFi, and four speakers with a passive radiator.
For those who want something a little more portable, the ConceptD 7 and ConceptD 5 pack 15.6-inch Ultra HD displays. Both are still 100-percent Adobe RGB and Pantone Verified, and deliver up to 400 nits of brightness.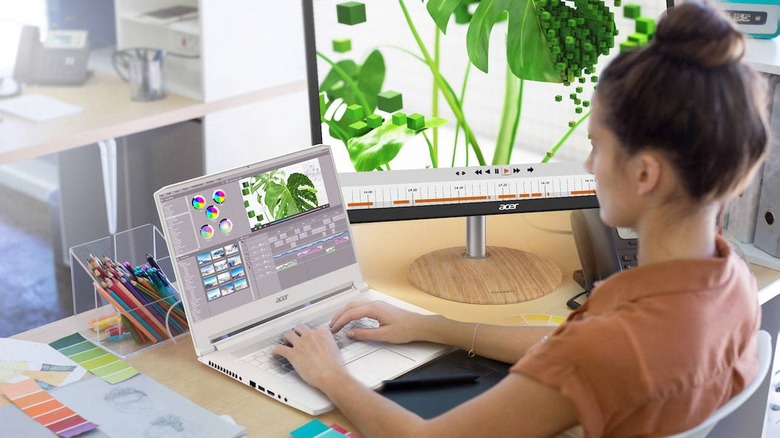 The ConceptD 7 gets a 9th Gen Core i7, with up to 32GB of memory and up to 1TB of storage. There's a choice of NVIDIA GeForce RTX 2080 or RTX 2060 graphics. Ports include Thunderbolt 3, HDMI 2.0, and Mini DisplayPort 1.4, and there's 802.11ac WiFi and a pair of speakers.
Finally, the ConceptD 5 uses an 8th Gen Core i7-8705G or Core i5-8305G processor, with up to 16GB of memory and up to 1TB of storage. There's AMD's Radeon RX Vega M GL graphics, while ports include USB-C 3.1, three USB 3.1, HDMI, and an SD card reader. There's also 802.11ac and Bluetooth 4.1.
Acer ConceptD Desktops
It's desktops where Acer's pro-pitch for the ConceptD range really kicks into high gear. The Acer ConceptD 900 puts dual Intel Xeon Gold 6148 processors into its matte black chassis, along with 12 slots for up to 192GB of DDR4-2666MHz memory. There's NVIDIA Quadro RTX 6000 graphics, along with both a 1TB SSD and two 4TB HDDs.
The ConceptD 900 also gets gigabit ethernet, five storage bays for 3.5-inch and 2.5-inch drives in RAID 0/1 configuration, three PCIe x8 slots, and four PCIe x16 slots. There's six cooling fans in total.
The ConceptD 500, meanwhile, uses up to a 9th Gen Intel Core i9-9900K processor, with up to 64GB of DDR4-2666MHz memory and NVIDIA Quadro RTX 4000 graphics. There's up to 2TB of HDD storage, up to 512GB of PCIe M.2 SSD storage, and up to 32GB of Intel Optane.
Connectivity includes 802.11ac WiFi, Bluetooth 5.0, and gigabit ethernet. Inside, there are two PCIe x16 slots, one PCIe, and one M.2 2230. The aesthetic is very different to the ConceptD900, too, with a white and wood casing that has a Qi wireless charging pad on the top. A pop-out headset cradle offers a place to hook your headphones.
Acer ConceptD Monitors and Headset
Perfect partners for the desktops, Acer's ConceptD monitors come in 27- and 32-inch sizes. The CM721K is 32-inches of 3840 x 2160 @ 60Hz resolution, with 600 nits brightness in native mode, or 1,000 nits in HDR or HDR1000 modes. It supports 1.07bn colors, for 99-percent of the Adobe RGB color gamut.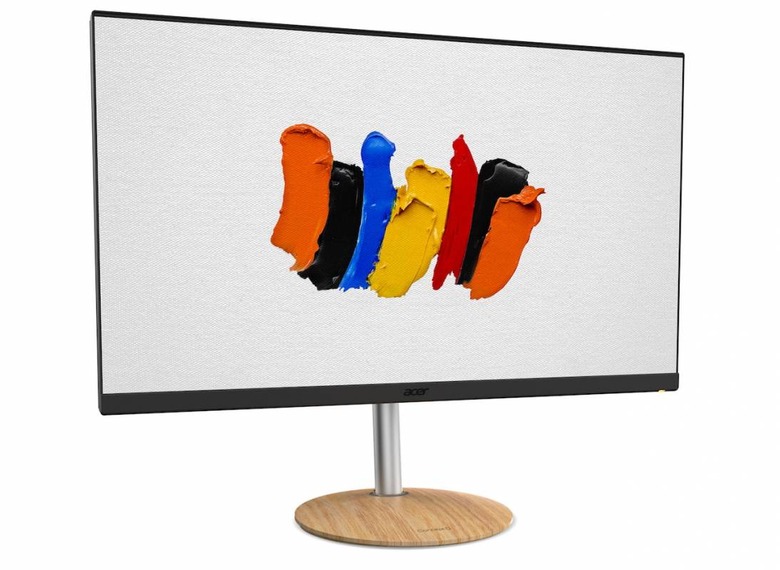 It packs two Thunderbolt 3 ports, four HDMI 2.0, and a DisplayPort 1.2, along with two 3W speakers. There's both tilt and swivel support.
As for the CP7271K P, that has a 27-inch panel running at 3840 x 2160 @ 144Hz resolution, with 1,000 nits of peak HDR brightness. It gets 99-percent of the Adobe RGB color gamut too, but has HDMI 2.0, DisplayPort 1.4, and four USB 3.0 ports instead. There are also twin 4W speakers, along with tilt and swivel.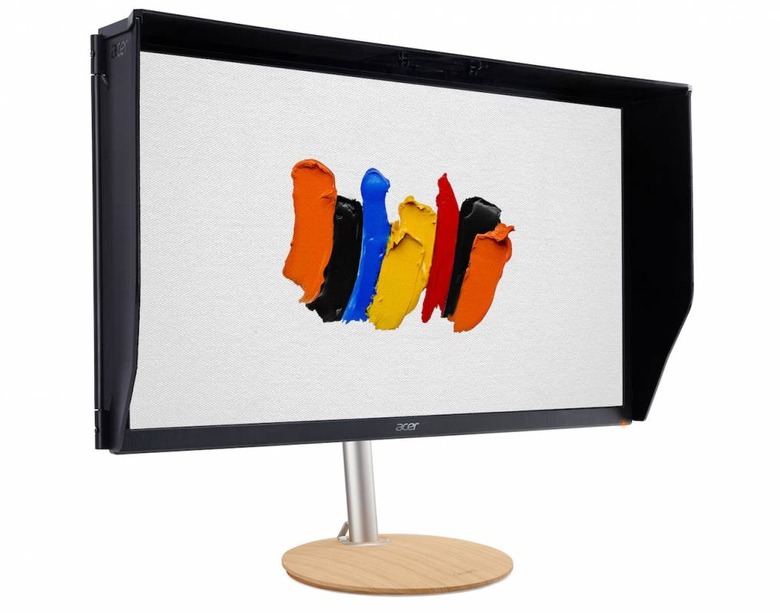 Finally, there's the Acer ConceptD OJO Windows Mixed Reality headset. It has twin 2.89-inch LCD displays, offering 4320 x 2160 resolution per eye at up to 90Hz refresh rates. There's inside-out tracking, integrated speakers, a microphone, and a 3.5mm headphones jack.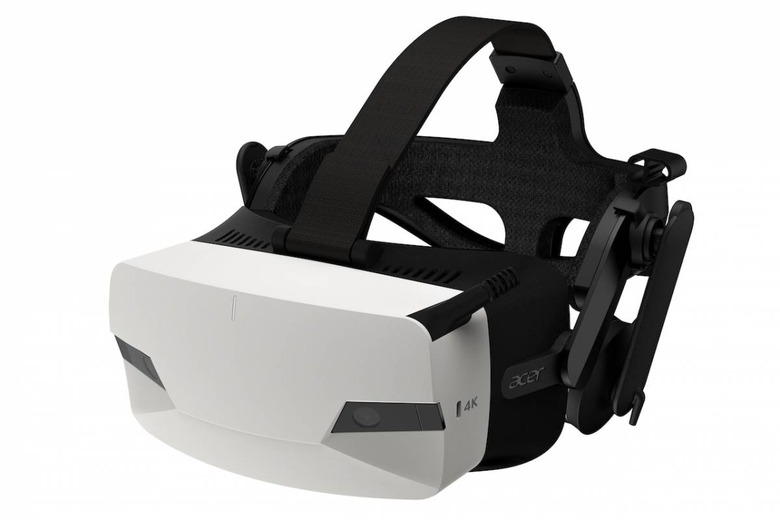 It hooks up via HDMI 2.0 and USB 3.0, like all Windows Mixed Reality headsets, and comes with motion controllers. It weighs 550 grams, not including the cable.
Acer ConceptD pricing and release
Acer's ConceptD 9 notebook will go on sale in June, priced from $4,999. The ConceptD 7 will arrive earlier, in April, priced from $2,299. The ConceptD 5 will land in April as well, priced from $1,699.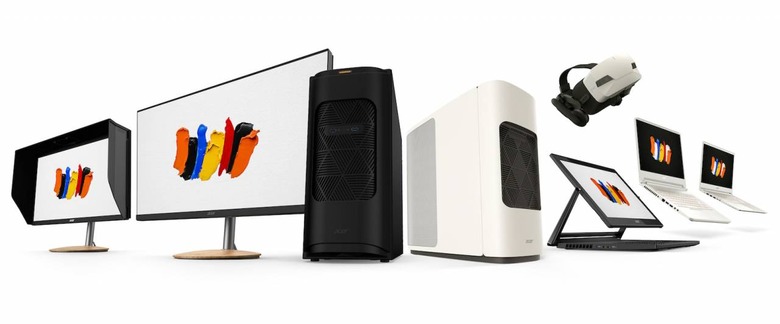 As for the desktops, the ConceptD 900 will go on sale in the US in May, priced from $19,999. The ConceptD 500, meanwhile, will arrive in June, priced from $1,699.
For the monitors, the ConceptD CM7321K 32-inch display won't arrive until September, Acer says. It'll be priced at $2,999. The ConceptD CP7271K 27-inch version will land earlier, in July, from $1,999. No word on how much the ConceptD OJO headset will cost yet.