Acer: Chromebooks good, Windows 8 bad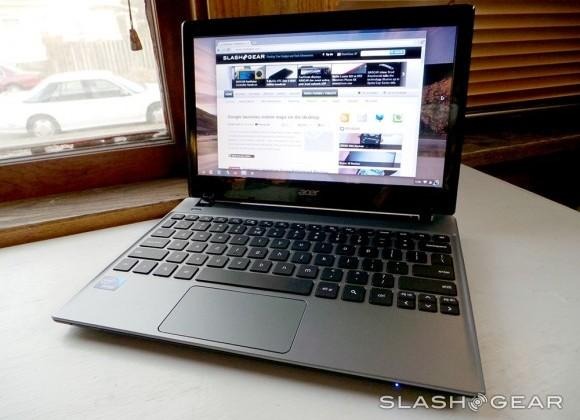 Acer expects Chrome OS to play an increasing role in its fortunes moving forward, as "Windows 8 itself is still not successful" according to the Taiwanese company's president. 5- to 10-percent of Acer's US shipments were Chromebooks such as the C7 ultraportable, Jim Wong told Bloomberg, and the company is confident that Chrome OS can sustain consumer interest in the face of what it sees as waning Windows 8 demand.
Acer saw a 28-percent drop in Q4 2012 shipments, year on year, and blames Microsoft's new platform for its PC shortfall. "The whole market didn't come back to growth after the Windows 8 launch," Wong argues, "that's a simple way to judge if it is successful or not."
What particularly impressed the Acer chief was how well Chrome OS has done despite Google's relatively low-key marketing of the platform. Unlike the Windows 8 gush in advance of Microsoft's launch late last year, Google's promotional work was "not as broad" Wong points out, describing it as "encouraging" how much consumer attention Chromebooks nonetheless garnered.
Likely to be helpful is the average price of a Chrome OS device, which – in part because Google gives away Chrome OS licenses free, rather than charging for them as Microsoft does for OEMs using Windows 8 – undercuts most regular notebook models. The C7, for instance – which we reviewed last year - is priced at just $199, though Wong says Acer spent some of the money it saved on licensing fees on marketing and promotions instead.
Acer now intends to launch Chrome OS devices more broadly, with particular hopes for the potential of the low-cost machines in developing markets. Unfortunately for Microsoft, that's not the strategy Acer will be taking with Windows RT, the version of Windows intended for use on ARM-based tablets and notebooks. The company is still evaluating the platform, Wong says.
Meanwhile, Acer hopes to triple its smartphone sales in 2013, aiming for 1.5m sales globally and targeting individual carriers with specific devices, rather than blanketing the market. It's likely that will involve Android, Google's better-known OS.