Acer Chromebook 11 (2016), Chromebook 14 now up on Google Store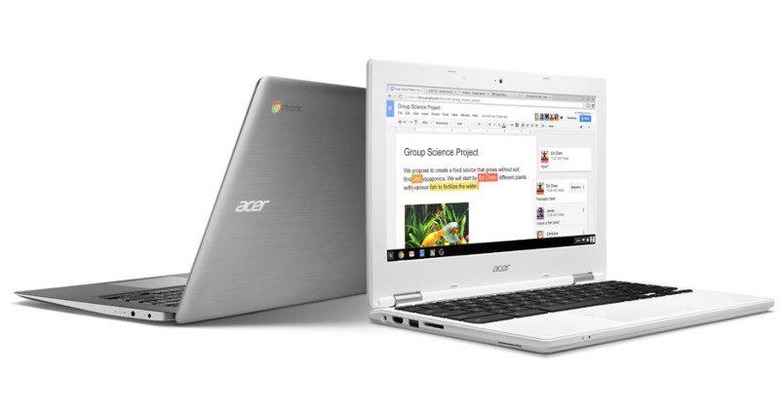 Chromebooks have suddenly become an interesting topic these days, somewhat ironically not because of themselves but becaue of Android. At Google I/O 2016 last month, Google revealed how Android apps would soon be coming in full capacity on Chrome OS via Google Play Store. That has just made Chromebooks nearly worth twice their value in terms of the things you can do on the laptop. It is quite timely, then, that Google makes available two of Acer's latest models, the Chromebook 14 and the 2016 refresh of the Chromebook 11.
Like most Chromebooks, perhaps with the except of the Chromebook Pixel, the Acer Chromebook 11 is totally a mid, some might even say low, tier laptop. It is powered by an older Intel Celeron N2840, a dual-core processor running at 2.1 GHz. There's only 2 GB of RAM and 16 GB of SSD storage, since Google wants you to use its cloud. The 11.6-inch screen reaches only up to 1366x768 pixels in resolution.
The Chromebook 14 fares a little better. It is powered also by an Intel Celeron but this time a beefier 1.6 GHz quad-core N3160. There's double the RAM and storage at 4 GB and 32 GB, respectively. And the larger 14-inch LCD monitor at least boasts of a 1920x1080 pixel resolution. In terms of design, the Chromebook 14 looks sleeker than the entry level Chromebook 11 (2016), with a body that tapers towards the edge and a brushed metal paint job.
While both notebooks look rather unassuming, both inside and out, it is their upcoming new feature that will make them worth a lot more than their spec sheet. Being able to run Android apps on a laptop, with no need to use emulators or third-party solutions, is no small matter. In theory, it gives Android users the PC-like experience they might be craving for, sans the touch-based input, while also providing Chromebook users the thousands of apps available for the mobile OS.
And when you consider that the Chromebook 11 (2016) and Chromebook 14 carry price tags of $179.99 and $299.99 respectively, reaching out for a Chromebook may have just gotten more tempting.