Acer AspireRevo Ion-nettop demo: Blu-ray 1080p plays perfectly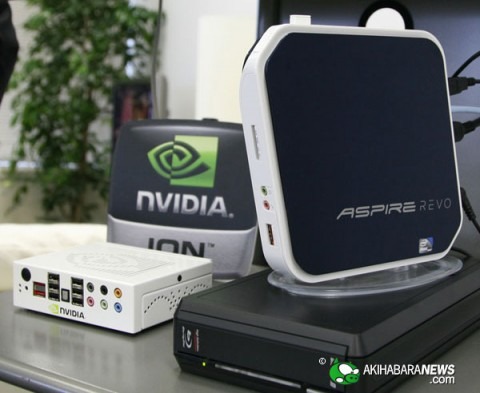 Acer have been demonstrating their AspireRevo nettop, the compact desktop PC that's the first to use NVIDIA's Ion graphics platform.  Officially launched earlier this month, the Acer AspireRevo happily gobbled up Blu-ray HD video from an external drive, playing it back at 1080p.
Under the angular hood there's an Intel Atom 230 processor and NVIDIA's Ion chip, which boasts CUDA technology and 16 GPU cores.  As well as HD video playback, it's also fully capable of 3D gaming, with Acer demonstrating Spore running smoothly.  With capabilities like that, it's no surprise to hear that Windows Vista was presenting no problems to the AspireRevo.
Acer also make an Atom 330 version of the AspireRevo, which we're assuming will be even more potent.  We'd still love to see a version with an integrated optical drive (Blu-ray please, Acer), but right now we'd settle for knowing official pricing and availability details.  Currently the rumors point to a late Q2 2009 release.