Acer Aspire V5 And V7 Ultrabooks Offer Thinner Design, Faster Internals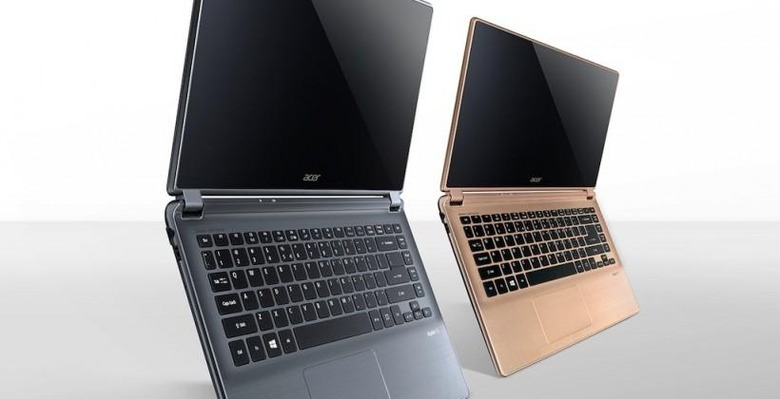 Today during Acer's press event in New York City, the company outed a ton of new products, including the quite unique Aspire R7 convertible all-in-one laptop of sorts. However, if it's a traditional design you're after, Acer released the Aspire V5 and V7 Ultrabooks like that offer a thinner design than previous models and of course faster hardware on the inside.
Acer claims that these new notebooks are 9% slimmer than previous-generation hardware, which doesn't seem like a huge difference, but Acer seems to think that users will notice a change with these new machines. The new V series includes models all the way from 11.6-inchers to larger versions with 15.6-inch displays, all of which come with touchscreen and non-touchscreen variants.
Aspire V5 and V7 11.6-inch models:
You can also get the new V series with either an AMD dual- or quad-core processor, or an Intel Core chip with either two or four cores as well. Select models can also be equipped with NVIDIA GeForce GT 7000M series or AMD Radeon HD 8750 discrete graphics, which means you'll be able to do a bit of gaming if you shell out the money for it.
Aspire V5 and V7 14-inch models:
As for availability, the V series laptops will be available toward the end of this month, with a starting price of $499. No word on retail locations that the laptops will be available at, but as with the other new products that Acer announced today, we're guessing that Best Buy will be the exclusive retailer for the new machines.
Aspire V5 and V7 15.6-inch models: