Acer Aspire Revo Ion nettop gets Atom 330 dual-core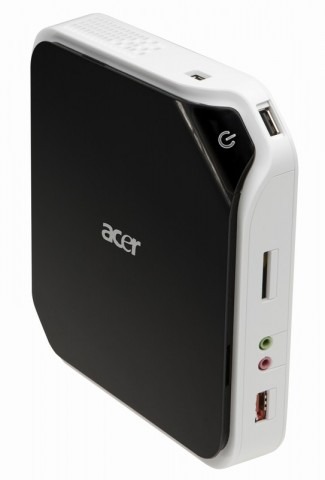 Acer's NVIDIA Ion toting Aspire Revo nettop is getting a much-needed processor bump, with the company swapping out the breathless single-core Atom 230 CPU for its dual-core Atom 330 counterpart.  The compact nettop also gets more memory and bigger hard-drives, the former doubling to 4GB and the latter offering either 320GB or 500GB.
Since those specifications are too much for a Windows XP license, the Aspire Revo gets Vista Home Premium.  Otherwise connectivity and specifications are the same, so you're looking at multiple USB 2.0 ports, HDMI, memory card slots and audio in/out, together with ethernet.
Reviews of the original, single-core Aspire Revo criticized its everyday performance, with the Atom CPU unable to keep up with the potential of the NVIDIA Ion.  Part of the problem is that not all software and sites are coded to take advantage of the 1080p-capable GPU, so while gaming and video transcoding run smoothly other tasks, such as YouTube HD playback, proved juddery.  We'll have to wait for the first reviews to find out whether the Atom 330 proves sufficiently potent to change that.
The Acer Aspire Revo dual-core will go on sale in the next few weeks, priced at €349 ($497) for the 320GB model and €399 ($568) for the 500GB model.