Acer Aspire One launched: $379 for Atom-powered Eee 901 rival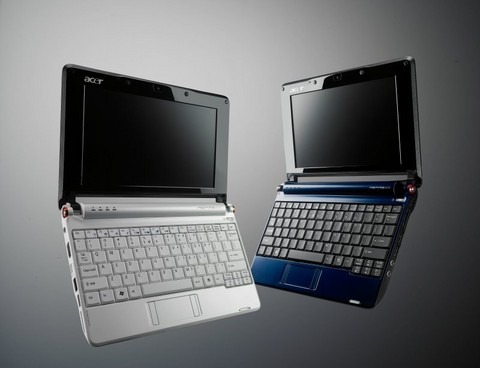 Acer's entrant to the budget ultraportable fray, the Aspire One which we first saw last week, has been made official.  As expected, the notebook is based on Intel's 1.6GHz Atom processor, has an 8.9-inch display (though 1024 x 600 rather than 1024 x 768 as was predicted) and comes as standard with a Linux OS (Linupus Lite) with Windows XP an option.  Storage is courtesy of an 8GB SSD, with 512MB of RAM and a memory card reader.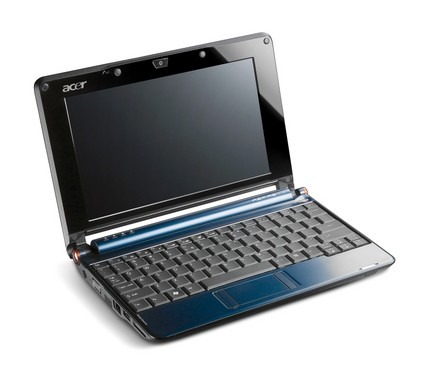 Measuring 248 x 170 x 29mm, the 0.9kg Aspire One will be available in four colours – sapphire blue, seashell white, golden brown and coral pink – and with options including doubling the RAM, swapping the SSD for an 80GB HDD and, in future, 3G and WiFi WWAN connectivity to augment the standard WiFi b/g.  There's a webcam at the top of the screen bezel.  Acer are claiming 3hrs battery life from the 3-cell pack, and 6hrs from the 6-cell pack. 
One area where we're glad the predictions over-estimated is the price: Acer are saying the Aspire One range will start at $379 (the original estimate was €299, or around $465).  It'll be available early in Q3 2008.
EeePCNews have already got a video hands-on with the Aspire One, shot at Computex 2008, and an image of it sat next to ASUS' Eee PC 901: