Acer Aspire One goes handgliding: Video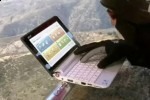 Netbooks are always being referred to as the ultraportable way to work on the move, but I don't think the marketing people quite had handgliding in mind.  David Altrich took to the skies with his Acer Aspire One, to demonstrate how easy it can be to get work done while surfing thermals. Check out the flying video after the cut!
The video is David's entry into the Want One? Win One competition currently running, whereby participants must impress the general public with their video submissions.  Prizes include an Aspire One netbook, an Xbox 360 and cold hard cash, just the thing for these recession-filled times.
We reviewed the Aspire One back in September and came away very impressed by the 8.9-inch ultraportable.  We'll be heading out to CES 2009 next week to see if there's any new competition to steal its budget crown.
[via NetbookNews.de - thanks Sascha!]