Acer Aspire One D255 Review
We may receive a commission on purchases made from links.
What difference a dual-core? As we've seen from the ASUS Eee PC 1215N, just because an ultraportable might be called a netbook, it doesn't mean it's necessarily short on power. Still, the Acer Aspire One D255 doesn't get NVIDIA's Optimus GPU to bolster its appeal, nor a desktop Atom CPU co-opted into mobile duty. Instead it offers the dualcore 1.5GHz Atom N550 and a mere 1GB of RAM. Are we expecting too much from this budget machine? Check out the full SlashGear review after the cut.
Acer's Aspire One netbook range has been running almost as long as ASUS' Eee PC line, and by now the company has got the industrial design down to a fine art. No expensive metal or unnecessary finishes, just a lightweight shell that's a mere 0.8-inches thick and 2.5lbs, a nicely sprung, full-sized chiclet keyboard, and a broad multitouch-capable trackpad that's easy to use. We're not 100-percent convinced by the blue color of our review model, but Acer also offer other variants.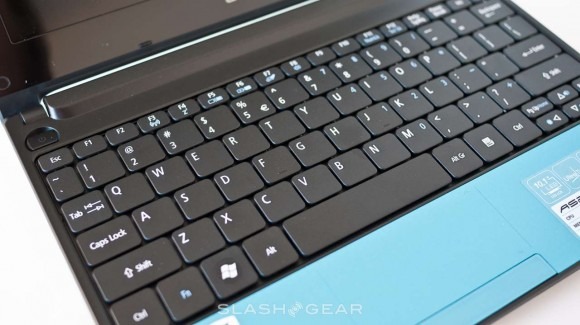 Inside there's Intel's latest dualcore Atom processor, the N550 running at 1.5GHz. While it may have a slightly slower clock speed than the N-series Atoms we're used to seeing in netbooks, it also has that extra core to make up for things. It's paired with 1GB of RAM, a 250GB hard-drive and Intel GMA 3150 graphics. The D255 will support 2GB of RAM (there's a single slot inside) but it's not especially easy to open up the casing. Happily you'll only ever do it once.
The display is a 10.1-inch 1024 x 600 panel that's clear and bright, and has reasonable viewing angles, but we're disappointed not to see a higher resolution. Rival machines manage 1366 x 768, for instance, which can be a productivity boon. Ports, meanwhile, are par for the netbook course: three USB 2.0, VGA, ethernet, audio in/out and a memory card reader. No HDMI (little point, given the GMA 3150 graphics) or USB 3.0, while wireless connectivity is WiFi b/g/n but no Bluetooth.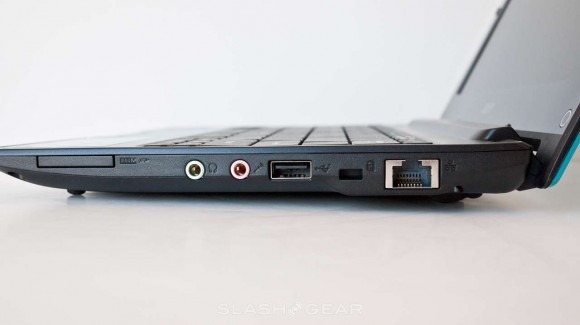 We ran Geekbench on the Aspire One D255, a synthetic test of processor and memory performance, and the netbook scored 953. That's considerably less than the 1,301 the Eee PC 1215N managed – with its desktop-spec Atom D525 CPU – but a few points higher than what we've come to expect from a single-core 1.6GHz Atom N450. The Toshiba NB305, for instance, managed 940. That leaves the Acer good for multitasking between a few browser windows, music playback and email, but not something you'd want to process audio or video on; don't even think about gaming potential.
[sgbenchmark id=127 show=score]
The payoff is battery life, with Acer suggesting users will see up to eight hours of runtime from the standard six-cell battery. We managed 6.5hrs of use, consisting of a one hour 720p video and the remainder browsing over WiFi, which is solid. Meanwhile Acer's power adapter is considerably smaller than most, which adds to the portability.
There are always compromises to be made when you build to a budget, and Acer has done well with the Aspire One D255 in order to avoid the netbook feeling unduly cheap or underpowered. With a street price of $329.99 it's affordable and offers decent longevity away from the mains. Anybody with ambitions beyond basic browsing and media playback should look to something more powerful, but for mainstream use the D255 is perfectly sufficient.