Acer Aspire One AO721, AO521, AOD260 and AO533 netbooks outed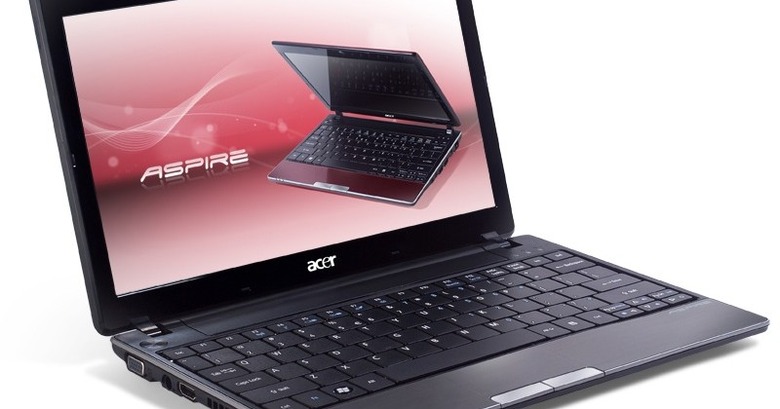 Acer has outed four new Aspire One netbooks, two running chips from AMD's Athlon II Neo range and two getting Intel's Atom N475.  The Acer Aspire One AO721 and Aspire One AO521 have 11.6- and 10.1-inch displays respectively, and pair the Neo CPU with ATI Radeon HD4225 GPU with 384MB of memory.  Meanwhile the Acer Aspire One AOD260 and Aspire One AO533 have the N475 with Intel graphics, and each uses a 10.1-inch display.
All four machines have up to 250GB of storage, WiFi b/g/n and 10/100 ethernet, along with a webcam.  The AO721 gets 2GB of RAM while the rest make do with 1GB; both the Radeon-toting machines have HDMI outputs, and the AO521 has Bluetooth, too.
Full specs are in the press releases below, together with dimensions and details on the various finishes Acer are offering.  The Aspire One AO721 and AO521 are available today from $429.99 and $349.99, respectively, while the Acer Aspire One AOD260 and AO533 will arrive later this month from $298.00 and $329.99 respectively.
Press Release:
Acer Expands Its Best-Selling Aspire One Netbook Line

with AMD High-Definition, High Performance Processors

New Aspire One AO721 and Aspire One AO521 Netbooks Get Updated

with Fresh, New Looks and AMD Athlon™ II Neo Processors

SAN JOSE, Calif., June 18, 2010 – Acer America today announced two new

versions of its popular Aspire One netbooks, including AMD-based

high-definition capabilities. Updated with fresh new ID treatments and

powerful AMD Athlon™ II Neo processors, the 11.6-inch Aspire One AO721 and

the 10.1-inch Aspire One AO521 are designed for ultra-portability and

usability, delivering high-definition graphics and video playback, and

smooth communications. Available for U.S. customers today, the Aspire One

AO721 and AO521 are available at retail and e-tail outlets nationwide with

prices beginning at $429.99 and $349.99, respectively.

The Aspire One AO721 and Aspire One AO521 utilize AMD Athlon II Neo K125

processors, optimized for improved energy efficiency and designed to

deliver balanced performance needed to enjoy multiple applications and

features. With the powerful AMD Athlon II Neo processor and ATI Radeon HD

4225 Graphics with 384MB of dedicated system memory, Aspire One users are

well-equipped for mobile performance. Users can vigorously multitask, even

with visually-intense, high-def applications, while freely exploring the

Internet, sending and receiving emails, watching videos and playing games

– all on the go and untethered from a power source.

New Eye-Catching Designs with High Performance and Portability

Like its predecessors, the Aspire One AO721 and Aspire One AO521 come with

ample memory and a large internal hard drive to store plenty of photo

albums, music and documents.

The Aspire One AO721 has a high-definition 11.6-inch CrystalBrite™ LED

backlit display, offering the largest viewing area on an Acer netbook.

Housed in a black matte, mesh-textured cover which limits fingerprints and

smudging, the Aspire One AO721 is sleek and portable at less than one-inch

thin and about three pounds in weight. The Aspire One AO721 boasts a

full-sized keyboard, enabling users more accurate and comfortable typing,

in a footprint smaller than a magazine. The Aspire One AO721 is equipped

with a full 2GB of DDR3 memory and up to a 250GB internal hard drive,

providing plenty of storage space for mobile enthusiasts. The netbook also

comes with Windows® 7 Home Premium on board for easy productivity.

The ultra-mobile Aspire One AO521 netbook features a HD 10.1-inch

CrystalBrite LED backlit display, offering a broad viewing area for web

navigation and entertainment enjoyment. Just shy of one-inch thin and

about 2.75 pounds, the Aspire One AO521 features a 93%-sized keyboard for

fast-paced, accurate data input while on the move, 1GB of DDR3 memory and

up to 250GB internal hard drive for plenty of media storage. Available in

two fashionable, patterned designs in black and brown, the Aspire One

AO521 netbooks feature a smooth, glossy exterior. The Aspire One AO521

comes equipped with Bluetooth for seamless connectivity to a variety of

devices and Windows 7 Starter.

The Aspire One AO721 and AO521 netbooks feature HDMI™ connectivity for

enjoying high-definition entertainment on large external displays. To

remain connected wirelessly, the Aspire One netbooks features 802.11 b/g/n

Wi-Fi and fast Ethernet LAN connectivity. The netbooks also come equipped

with a built-in webcam, delivering smooth video streaming and high quality

images for online chats and video conferences. A built-in digital

microphone conveys superior voice quality, keeping background noise levels

low and minimizing echoes.

Both the Aspire One AO721 and AO521 netbooks feature a Multi-Gesture

Touchpad, allowing users to pinch, flick and swirl their fingers across

the touchpad for intuitive navigation. It also allows users to scroll,

zoom in and out, and flip through web pages, photos, spreadsheets and

more.

The new Acer Aspire One models come with a standard one-year parts and

labor warranty, which can be extended to three years with the Acer

Advantage service. All Acer netbooks are backed by toll-free service and

support.

About Acer

Since its founding in 1976, Acer has achieved the goal of breaking the

barriers between people and technology. Globally, Acer ranks No. 2 for

total PCs and notebooks. A profitable and sustainable Channel Business

Model is instrumental to the company's continuing growth, while its

multi-brand approach effectively integrates Acer, Gateway, Packard Bell,

and eMachines brands in worldwide markets. Acer strives to design

environmentally friendly products and establish a green supply chain

through collaboration with suppliers. Acer is proud to be a Worldwide

Partner of the Olympic Movement, including the Vancouver 2010 Olympic

Winter and London 2012 Olympic Games. The Acer Group employs 7,000 people

worldwide. 2009 revenues reached US$17.9 billion. See www.acer-group.com

for more information.

© 2009 Acer Inc. All rights reserved. Acer and the Acer logo are

registered trademarks of Acer Inc. Other trademarks, registered

trademarks, and/or service marks, indicated or otherwise, are the property

of their respective owners.

# # #

——————————

Acer Turns Heads with Stylish New Additions to Aspire One Netbook Line

Aspire One AOD260 netbook offers sophisticated styling for fashion-forward

mobile users; Aspire One AO533 netbook combines performance and all-day

battery life

SAN JOSE, Calif., June 18, 2010 – Acer America today expanded its

industry-leading line of Aspire One netbooks with the Acer Aspire One

AOD260 and Aspire One AO533. These new netbook lines deliver sleek new

designs and enhanced performance for highly mobile consumers.

Keeping users productive and connected on the go, both notebooks feature

Intel® Atom™ processors, 10.1-inch WSVGA LED-backlit displays, fast Wi-Fi

connectivity, built-in webcams and large keyboards with Multi-Gesture

touchpads. While they share some key mobility features, the two lines

were designed to meet different customer needs. The Aspire One AOD260

blends performance with a sophisticated design that makes a fashion

statement, while the Aspire One AO533 delivers long battery life and ample

features at an outstanding value.

"The netbook market has matured quickly and Acer is maintaining its

leadership in this category by delivering multiple product lines that

target unique customer requirements," said Pete Dailey, senior product

marketing manager for netbooks. "Whether the customer's primary concern

is style, performance, battery life or value, Acer offers the perfect

netbook solution."

Unique Style and Advanced Performance for the Mobile Fashionista

For the mobile user that cares about style as much as performance, the

Aspire One AOD260 netbook was designed as a fashion accessory. The

patterned design, smooth surface, chromo-plated logos and flush battery

create an elegant design from all angles. Combine the great looks with the

energy-efficient Intel® Atom™ N450 processor, and the Aspire One AOD260

offers beauty and performance. Additionally, it comes with ample memory

and a large internal hard drive to store plenty of digital albums, music

and documents.

Keeping in touch with friends, family and colleagues is simple and easy

with the Aspire One AOD260. Access email and browse the web from airports,

coffee shops or the home office via an integrated Wi-Fi CERTIFIED® network

connection and fast Ethernet LAN. The 10.1-inch CrystalBrite™ LED display,

webcam and digital microphone deliver smooth video and voice quality for

real-time video chat and conferencing.

Less than 1-inch thin and ranging from 2.43 to 2.76 pounds (depending on

battery size), the Aspire One AOD260 is easy to take anywhere, whether for

work or play. Additionally, it comes in four colors to fit anyone's style

and personality – black, charcoal, pink and purple.

Mobile Performance and Functionality for All Day Computing

The Aspire One AO533 netbook was designed for all-around performance and

all-day mobility. Featuring the high-performance yet energy-conscious

Intel® Atom™ N475 processor, efficient 10.1-inch LED-backlit display and a

6-cell Li-ion battery, the Aspire One AO533 offers 8 hours of battery life

on a single charge.(1) Additionally, 1GB of advanced DDR3 memory and a

large 250GB hard drive make the Aspire One AO533 ready for

performance-minded customers.

Users can stay connected to social networks and email while on the go with

the 802.11b/g/n wireless network or fast Ethernet LAN connectivity. The

integrated webcam delivers smooth video streaming and high quality images

for online chats and video conferences. The built-in digital microphone

conveys superior voice quality, keeping background noise levels low and

minimizing echoes.

This 2.76-pound netbook not only performs well, but looks great too with a

newly enhanced industrial design. A glossy cover in red, black or white is

complimented by a chrome rim and striking logos. In addition, the battery

fits flush in the chassis, making the Aspire One AO533 an ideal portable

companion for users needing all day computing power.

Additional Features Enhance Ease-of-Use

For precise control and intuitive navigation, the netbooks utilize a

Multi-Gesture Touchpad with anti-slip microbead texture, allowing users to

pinch, flick and swirl their fingers across the touchpad . It also allows

users to scroll, zoom in and out, and flip through web pages, photos,

spreadsheets and more. Also, a larger keyboard – 93 percent standard size

- is convenient for typing.

Price and Availability

Both netbook lines will be available later this month at leading U.S.

retailers. The Acer® Aspire One AOD260 will start at a suggested retail

price of $298.00, while the Acer® Aspire One AO533 will start at a

suggested retail price of $329.99.

About Acer

Since its founding in 1976, Acer has achieved the goal of breaking the

barriers between people and technology. Globally, Acer ranks No. 2 for

total PCs and notebooks.(2) A profitable and sustainable Channel Business

Model is instrumental to the company's continuing growth, while its

multi-brand approach effectively integrates Acer, Gateway, Packard Bell,

and eMachines brands in worldwide markets. Acer strives to design

environmentally friendly products and establish a green supply chain

through collaboration with suppliers. Acer is proud to be a Worldwide

Partner of the Olympic Movement, including the Vancouver 2010 Olympic

Winter and London 2012 Olympic Games. The Acer Group employs 7,000 people

worldwide. 2009 revenues reached US$17.9 billion. See www.acer-group.com

for more information.

© 2009 Acer Inc. All rights reserved. Acer and the Acer logo are

registered trademarks of Acer Inc. Other trademarks, registered

trademarks, and/or service marks, indicated or otherwise, are the property

of their respective owners.

1. Battery life varies depending on product specifications, computer

settings and applications or features launched. All batteries' maximum

capacity diminishes with time and use.

2. Source: Gartner data, FY 2009