Acer Aspire One 531 gets US launch: N270 and optional 3G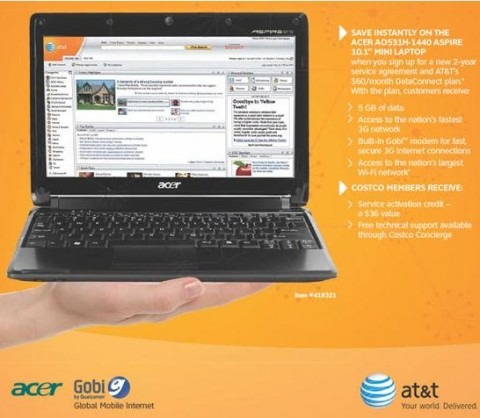 We may receive a commission on purchases made from links.
The Acer Aspire One 531 range has finally reached the US, making its official appearance on the company's regional website and even, we're hearing, making it out to retailers.  Several versions of the 10.1-inch netbook are available, including integrated 3G on two of the models.
Common to all versions is the Intel Atom N270 1.6GHz processor, a 160GB hard-drive 10.1-inch 1024 x 600 display, webcam and WiFi b/g.  The Acer Aspire One Pro 531h-1791 throws 2GB of RAM and Windows XP Pro into the mix, while the Aspire One 531h-1440 and 531h-1766 get only 1GB of RAM and Windows XP home, but add integrated 3G.  The only other difference between the two 3G-enabled models is the warranty: one year on the 1766 and two years on the 1440.
If bought with a two-year AT&T data plan, the 3G models can be had for as little as $150.  Elsewhere, the AOP531h-1791 is listed at around $466.20 at PC Super Store, while the AO531h-1766 is listed at Amazon and Radioshack for around $449.99.